Intermediate Level
CLUBMAN GRAVEL RALLY
Track: Liege (Gravel)
Horsepower: 345
Maximum Recommended Weight: 2,700 pounds (1,225 kg)
Truck Max Recommended Weight: 4,000 pounds (1,815 kg)
Description
Five stints to accomplish now, rather than three. The competition gets upped, so that mostly all-wheel drives are participating, and it's best to enter an AWD as well, unless you're really in need of some challenge!
Hmm. Not sure if this is true of the Beginner rally portions, but I am noticing the Intermediates are randomized. Each time a trial is run, the way the track gets shaped is definitely different. In other words, SS1 is never the same, SS2 is never the same, and so on. I've figured this out after screwing up multiple times, requiring many restarts.
It seems that because of this, it becomes important to study the map which gets displayed before the start of each of these, but I have found that a lot of times, these maps are not truthful. So bleah, once again I'm cheating. I'm relying on that British dude + the GPS map + the brake meter thingie.
Unfortunately, the brake meter (Suggested Gear) device is not so reliable at this set of events. Annoyingly, it signals too late sometimes.
Again, there are no weight-to-power ratios, but anything less than 3,000 pounds (1,361 kg) should be used for best results if the competition is easy. Easy grids are tough to find, though. So when going up against tougher cars (such as those on the top third of the Opponents' list below) it's best to have weight lower than 2,700 pounds (1,225 kg). Most grids are tougher ones.
Opponents
'04 Subaru Impreza WRX STi spec C Type
'04 Subaru Impreza WRX STi spec C
'02 Subaru Impreza WRX STi'
'84 Ford RS200
'02 Audi S3
'03 Audi A3 3.2 Quattro
'96 Mitsubishi Lancer Evolution IV GSR
'98 Mitsubishi Lancer Evolution V GSR
'99 Mitsubishi Lancer Evolution VI GSR TMI
'05 Mitsubishi Lancer Evolution IX GSR
'98 Audi S4
'06 Alfa Romeo Brera Sky Window 3.2 JTS Q4
'91 Toyota Celica GT-FOUR RC
'00 Volkswagen New Beetle RSI
'91 Lancia Delta HF Integrale Evoluzione
'04 Volkswagen Bora V6 4MOTION
'02 Toyota Caldina GT-Four
'82 Audi Quattro
'73 Lancia Stratos
'83 Nissan Silvia 240RS
Again those in the top two-thirds of the list: the Audis, the Mitsubishis, the Subarus, etc., all tend to do better than those at the very bottom third. Anything below the ancient Peugeot 205 is nothing to worry about, assuming you've brought something suitable.
Parts
Dirt Tires
Full-custom Suspension
Brake Balancer
Single-plate clutch, either flywheel, Carbon Driveshaft.
Experiments can be tried with limited-slips, center differentials, and (in the case of Mitsubishis) Advanced Yaw Control to enhance cornering capabilities.
Transmission rated for 160 mph at the most, though it's hard to tell what's needed, since each rally stage gets randomized.
Cars Used
'04 Dodge Ram 1500
'99 Mitsubishi Lancer Evolution GSR
'02 Subaru Impreza WRX STI
--------------------------------------------------------------------------------------------------------------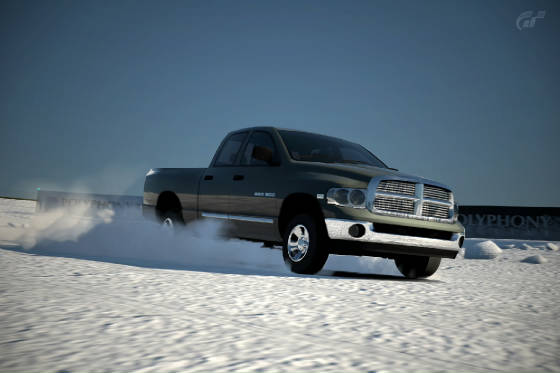 Alaskan Rally
Track: Alaska
Horsepower: 345
Front-drive Maximum Recommended Weight: 2,500 pounds (1,134 kg)
AWD Maximum Recommended Weight: 3,000 pounds (1,361 kg)
Trucks Max Recommended Weight: 4,000 pounds (1,815 kg)
Description
During the Beginner snow races, marshals decided to hold all trials in the middle of a blizzard. Now it's nice and sunny. The effect of the sun upon freshly-fallen snow is so bright though.. Where are my sunglasses? As it turns out, THIS is what'll be the hardest thing about navigating Alaska:. Sometimes it gets pretty tough to simply see where the track is, and which way those barriers are turning.
As each trial is run, the sun gets lower toward the horizon. None of these are run in full darkness though (darn). Again, these trials are run randomly, and the Suggested Gear brake indicator becomes even more unreliable.
But none of that matters. These snowy tryouts are really really easy. During my very first attempt at SS1, I almost caught up to one of the other cars. I then finished five seconds faster than the second place Impreza, and this was done with some very lackluster driving. During SS2 I did catch up to that 3rd place car (an '82 Audi) then passed it! By now I was so far ahead of the competition time-wise, I decided to add ballast to my Lancer Evo. I totally screwed up SS3: spinning fully into a barrier, slamming face-first into another barrier, finally needing to use reverse.
But like I said, none of this matters. Driving these courses with lots of caution, literally crawling through some of the trickier hairpins and switchbacks, will pretty much guarantee a win every time. Because the competition is driving even slower! Here I am, guessing braking zones multiple seconds too hastily, turning in too early, constantly making safety-net calls too late. This sort of stuff would be really embarrassing on a track I know well, like Tsukuba or Grand Valley. And it doesn't help that I'm losing my vision due to all that bright snow. Grazing some net barriers. Crashing. Losing composure, and therefore speed.
....Yet despite all this, I'm still crushing.
During the previous rally at Liege, the driver must find that perfect combination of nerves, caution, and daring, but must also keep using as much cornering speed as possible. At Alaska, only caution is needed. Speed and daring become much more secondary. I got to the point that I even tried using a front-drive Ford Focus. This car culd not just jump off the line like an all-wheel drive, yet managed to win most of its stages, anywhere from 1.5 to seventeen seconds ahead of the others.
All courses are pretty long too, which is rather fun.
Opponents
All the same as before, minus the rear-drives. Or at least, I have yet to see any of these. Ironically, rear-drive cars (or even some better front-drives) might be the best choice for some of us.
Note: the rear-drive '73 Lancia Stratos becomes an unexpected sleeper on the snow, blowing many later-model AWDs away!
Parts
Snow Tires
Brake Balancer
Height-adjustable Sport Suspension (all-wheel drives)
Full-custom suspension (front and rear-drives)
Transmission rated for 150 mph. Fastest I've gone is 164 mph down a "thousand long" straight, but this only happened once.
Drivetrain parts as needed. Most AWDs won't need any help here, but front or rear-drives can take limited-slips especially.
Cars Used
''04 Dodge Ram 1500
'03 Ford Focus ST170
'00 Mitsubishi Lancer Evolution VII RS
----------------------------------------------------------------------------------------------------
Tuscany Tarmac Rally
Track: Toscana (Tarmac)
Horsepower: 345
Front-drive Maximum Recommended Wgt: 2,200 pounds (1,000 kg)
AWD and rear-drive Maximum Recommended Weight: 2,700 pounds (1,225 kg)
Maximum Recommended Weight is the very highest I recommend. In reality, it's simply best to make the car as light as can be, unless it's already below 2,000 pounds, and has stability issues because of this.
Description
Those who thought Polyphony Digital was getting soft will either be disappointed (because they're not getting soft) or elated (because challenge now returns).
One HUGE factor at this course is sun glare. Almost all of these feature some sort of blazing light, shining right into our faces, literally blinding the driver. SS1 and SS2 are the worst. Both of these make the sun's rays into one giant blind spot. Heading into the direction of the sun will guarantee WE CANNOT SEE more than twenty feet ahead.
One way to combat this is to use one of the different camera views while driving. I'm in the habit of using in-car view, and I noticed that switching to roof view does help a little.
Thankfully my new favorite cheat device, Suggested Gear. does start working more reliably again with its brake zone warnings. This is not 100% unfortunately, but I'll say 75 to 80%, it gets 'em right. When it signals falsely, it usually indicates the driver to brake too early, which is not as bad as too late. Best of all though, I've noticed it does work pretty well for those over-the-hill blind curves and bends, which is where braking zones are the hardest to predict.
Different drivetrain types can be used; the driver isn't forced into just AWD like he/she was at the unpaved trials. I just raced a front-drive Integra for instance, winning 3 out of 5 stages. Keep in mind that those which haven't got an all-wheel drive's stellar traction off-the-mark will suffer some lost time. So for these cars, search for some easier grids, if needed.
Another trick I like to employ for those that aren't as good with standing starts: launch the car in 2nd gear instead of first, especially front-drives. Now that this much power is being played with, getting a good launch in this gear can sometimes work. Put it in 2nd, rev that engine high, and watch carefully. Some FFs can handle this sort of power without excessive wheelspin, which means throttle can be pasted down all the way, without fear of hitting the rev-limiter.
Opponents
Somehow, they all go from being pansies at the snow track to ace professionals again. Oftentimes, I'll be doing one of these death runs and get lime green time signatures from the stage counters (meaning I am ahead of the others).. Maybe I'm a second and a half ahead of the others. Next counter, I've got -3.281.
But then it usually falls apart. I'm driving with that mixture of caution and daring again, trying to squeeze the best racing lines in, and I'm not hitting any barriers. Sometimes getting them wrong, sometimes getting them right. Somehow though, the others are doing better.
Like all the other more challenging rally events, eventually it's possible to get a feel for how these courses should get taken. Though the turns, straights, and hills are randomized, the game copy/pastes various sections together. After awhile, you may notice the same gentle right which merges into that sharp left has been repeated. The same double right with a short straight in its middle shows up.
It also helps to keep certain cars away from the grid. By now, if the '04 Subaru Impreza Spec WRX STI C shows, up, that's an automatic reload! The '73 Lancia Stratos also keeps its sleeper thing going, becoming even more dangerous now that it's back on pavement.
Parts
Soft Sport Tires
Brake Balancer
Height-adjustable Suspension (all-wheel drives and some rear-drives)
Full-custom Suspension (front-drives and some rear-drives)
Transmission rated for 150 mph
Single-plate Clutch, either Flywheel, Carbon Driveshaft, and any additional devices necessary. All-wheel drives shouldn't be needing limited-slips, but some with other drivetrain types might.
Cars Used
'03 Honda Integra Type R
'99 Mitsubishi Lancer Evolution VI GSR TMI
'03 Shelby Series 1 Super Charged
'02 Subaru Impreza WRX STI