Year: 1983
Class: City Car
Type: Hatchback
Host: GT4
Country of Origin: Japan
1983 Honda City Turbo II
by Matej from GTP
Contrary to many beliefs, Honda's racing heritage reaches far into the early 80s, long before well-known models regarded with cult-status nowadays. Honda has left a sturdy signature among motorsport enthusiasts. Yes, while serious people were struggling with a global recession and an everyday chance of losing their only source of income, Honda was taking care of younger population by letting them hunt naked girls in the Honda City Turbo while the voice of Michael Jackson was screaming from a radio. Ok, I'm bit exaggerating here, but this isn't far from reality. In best case, you could say this standpoint resembles a brighter side of this generally sensitive period of living. So, what did Honda actually offer to lessen this tension?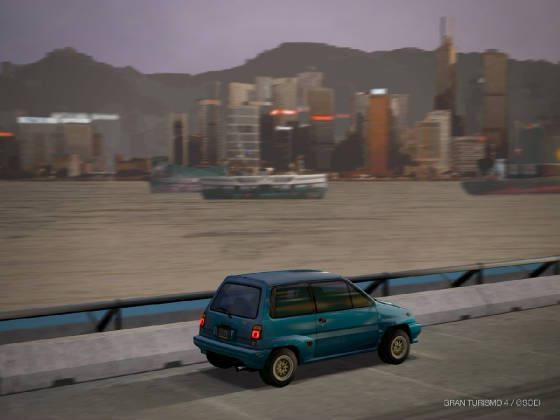 The Honda City rolled out from production in 1981, and quickly gained public attention with its unique Tallboy boxy design. It was built under so-called MM philosophy (Maximum men, Minimum mechanics) which instructs to place inside as many people as possible, while keeping the car's body simple and light. And indeed, if you look at the overall dimensions, the City may almost hop into Kei class category, while still offering plenty of leg room at the same time, which isn't something you can easily associate with Kei cars, is it? The City's smart construction was quickly recognized, allowing City to become hit in Japan, and it also opened a path for spawning even more versions, one of which is a current star of the show, the Honda City Turbo II.
The City Turbo was a high-performance edition of the base model, introduced in 1982. It could squeeze 100 horsepowers from a turbocharged engine (see something unusual here?) while still being light as your overnight pillow (not that light, though). Being constructed by Hirotoshi Honda, later former of Mugen tunershop, with all the goods that came from this, it was considered to be well ahead of its time.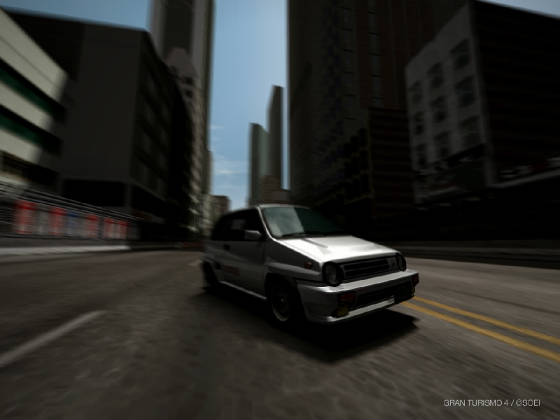 But the real sugar came in 1983 with introduction of enhanced Turbo II edition. Power was increased to 110 ponies by using an intercooler, while the car's exterior received significant changes: mainly bumpers, side skirts and other accessories. With its face being puffed up it soon received a proper nickname: "Bulldog" (infra in text for Turbo II). Although it never reached any lands across Japan, the Bulldog remains to keep special place among worldwide Honda enthusiasts.
And how it stands out in Gran Turismo 4? You can find one in a kennel of 80s, among other archaic pets and beasts. It is not chained, muzzled or anything like that, although when you first see its numbers you may wish it was. The Bulldog resembles a portrayal of a hot-hatch car, but those who read between the lines will notice how it slightly surpasses the potential of like models. With the given odds, particulary weight, it embarrasses some of the finest representatives of this class: Peugeot 106 Rallye or Fiat Punto HGT. Of course, due to a significant difference in age comparasion with the given examples is pointless, but the fact that the Bulldog can keep up with those two makes you believe how engineers nowadays should dust off their old books and revive the matter from the past a little bit. But the weight itself would not be the only gem if not supported by 1.2 litre engine.
Aside from its producable 110 ponies (which is a very interesting value), the unit can be tuned up to 220 ponies, enforcing power/weight ratio to drop to value 3.0. Now that is a breathtaking fact. In addition, owners will entertain themselves with a fact that ditto engine comes as an turbocharged unit.
A Turbocharged Honda? How many times have you heard this ? Not too many, exactly.
The Bulldog is the only boosted Honda in GT4, and one of few in real life, showing that nothing is sacred when performance is in case. As a result, forget about VTEC-like peaky aims just before readline, here slight power drop-off exists but luckily, the gearbox is well-optimised so you won't have to worry about shifting at all. And as this engine forces you to step back from NA upgrades, other Hondas in your garage might get jealous. Maybe you should chain your Bulldog up a little bit…
Time to place our bellowed dog on its feet. Generally speaking, the Bulldog's demanded driving style doesn't differ from other front-wheel drive cars from the same or later period, but there are few tips you need to take into consideration if you want to extract the best from it. Progressive rate coil springs and stabilizers at both the front and the rear offers impressive handling, but the boxy chasis has a habit of doing things on its own, so a few tips needs to be taken into consideration in order to avoid additional issues.
The fastest times are made by keeping any 'Bulldog' moves as smooth as possible (Captain Obvious…). Progressive dosage of throttle and brakes keeps chasis on its limits and allows you to use full potential of the light body. Aggressive acceleration and braking produces a significant amount of sharp understeer, but this situation may become even more severe if running on cold tires. Don't forget that the majority of events where the Bulldog's entry is eligible require the tire indicator being on, so while its wide and light body is mostly friendly, at those times it becomes a double-edged sword. So, show some sensitivity. And if you're just starting out, it would be wise idea to spend extra 4,000 credits on 1-way LSD as well. The Bulldog never came with a limited-slip, so aggressive dashes out of sharp corners will induce inner wheel-spin. With the LSD being installed, this major issue disappears, allowing you to reduce your lap times even further.
Another tip, and the more important I would say, refers to extra power. Sooner or later you will wish to examine possible potential from that 3.0 ratio, to see how energetic the Bulldog can really bite when being under the influence of vaccines. Unfortunately, its teeth will get broken. With all the power being thrown in, acceleration and top speed will significantly rise, that is for certain, but it also becomes painfully obvious how this car's chassis isn't made to sustain so much aggression, if you are ambitiously trying to enforce. As understeer reaches a colossal level, you won't be able to use its power effectively, so this car's suspension will require a replacement. Either sports kit will do but I recommend the Fully Customizable one, as only pros will manage with limited tuning options.
However, this is nothing compared to the headache the Bulldog will give you with traction, or in this case, complete lack of it! Front tires will slip even after car has picked up some speed, forcing you to either turn TCS on, or throw your joystick onto the streets of the Hong Kong track, which the Bulldog so desperately tried to conquer. Of course, the problem will triple if tires are still cold, like always.
Speaking of tires (again), the Bulldog is capable of completing two laps around Nürburging with its front tire indicators being clear yellow, which is a fact worth of endless acclamation, but the drive was harder than I had expected. The short wheelbase poorly withstands bumps and curbs, so the body gets trown around like a cone on La Sarthe after being catapulted by pushy drivers. Proper tuning may calm this behaviour (I managed to run 8'20 with default settings) but don't expect the safeness traditionally reserved for FF cars. This one will require lot of effort before fast laps start to come along, so make sure you arm yourself with patience. Lots of drivers won't be able to meet this condition but I don't blame them; in my opinion the Bulldog should be kept near its default values without extra boost to interfere. Not only this will make your races more effective, the Bulldog will live up to its name, well ahead of its time phase.
As long as stamina is in question, the City's stock configuration will take our Bulldog across the Sunday Cup without doubts, while with proper training skills and small investments our Bulldog may bite through a fence and take on the FF challenge, two of the Compact cups and the challenge of 80's as well. With aggressive, additional tuning you can challenge the Clubman Cup at best, but forget about conquering the Turbo challenge, the Bulldog is way too outdated to cope on this level.
As such, it may not attract the majority of GT drivers, but the Bulldog isn't made for anyone in first place. It is suited for drivers who apart from big presents, like to peek in those smaller, obscure ones which sometimes hide big surprises and enjoyment. Others may disagree with me, but the Bulldog is among the most thrilling FF cars I have ever driven, with tons of enchanting moments that keeps you open for minor tweaks and improvements. We may complain about its goofy look, issues with handling but what for?
With a pulp of latter pedigree and Turbo decals on its sides, City Turbo can't be more traditional than it already is. And that is something very few cars can brag about with.

Pros
1.) Really overwhelming cornering potential provided by light and simple construction. Receipe for victory.

2.) Powerful engine open for additional upgrades.

3.) Unique as well. It is the only turbocharged Honda around with Mugen's gens !

4.) A real cutie. This one will quickly get under your skin.

5.) Extremely affordable choice to start with.

6.) Easy on tires and fuel.

Cons
1.) Handling requires expert hands and tons of patience.

2.) This dog doesn't get along with power upgrades, so lots of invested money may show up as a waste afterwards.

3.) Tons of issues with traction. LSD helps at first, but later on only technique will make a difference.

4.) Not the prettiest example in class. Now you know why it is called the Bulldog.
Published: March 24, 2014