SPEX

Year: 2007 (Mustang), 2010 (Camaro), 2008 (Challenger)
Class: Muscle Car
Type: 2+2 Coupe

Host: GT5
Country: USA

Price: $48,500 (Mustang), $35,000 (Camaro), $40,027 (Challenger)
Mileage: 0.0 for all initially,
Full Break-in mileage: 148.9 (Mustang), 171.4 (Camaro), 194.6 (Challenger)
Construction: unit steel (Mustang), aluminum hood/unit steel (Camaro), unit steel (Challenger)
'07 Mustang '10 Camaro '08 Challenger
Length: 187.6" 190.4" 197.7"
Width: 74.0" 75.5" 75.7"
Height: 54.5" 54.2" 57.0"
Wheelbase: 107.1" 112.3" 116.0"
Overhang: 6' 8" 6' 6" 6' 10"
F. Track: 62.3" 63.7" 63.0"
R. Track: 62.9" 63.7" 63.1"
Grd. Clear: NA NA 5.5"
Weight: 3,592 lbs. 3,868 4,139
Wgt. Dist: 54/46* 47/53 56/44
*real-life specs here for the Mustang. In game, it's a nose-divey 65/35
Steering: pwr. assisted rack & pinion (all three cars)
Layout: Front Engine / Rear-Drive (all three)
Tires: 235/50WR-18, 245/45ZR-20, 245/45R-20 [F], 255/45R-20 [R]
Mustang F. Suspension: MacPherson struts, coils, anti-roll bar
Mustang R. Suspension: live axle, coils, shox, anti-roll bar, Panhard rods
Camaro Suspension: multilink, coils, shox, anti-roll bar (this is true front & rear)
Challenger F. Suspension: A-arms, coils, shox, anti-roll bar
Challenger R. Suspension: multilink, coils, shox, anti-roll bar
Brakes: vented discs front & rear on all cars.
All three cars did not receive oil change or maintenance for all specs & testing below. Engines were broken-in for all testing, though.
"Quoted" horsepower & torque is what the dealer quoted. "Starting" is what was shown by the dyno back at the garage, and "Final" HP and torque are what the car achieved after full engine break-in
Mustang Engine Specs
280 cubic-inch (4.6 L) SOHC V8
Aspiration: natural
Fuel syst: EFI
Valves/Cyl: 2 with VCT (Variable Cam Timing)
Bore x Stroke: 3.55 x 3.54"
Compression: 9.8:1
Quoted HP: 299 @ 5,750
Starting HP: 291 @ 6,000
Final HP: 299 @ 6,000
Quoted Torq: 319 @ 4,500
Starting Torq: 310 @ 4,500
Final Torque: 317 @ 4,500
Credits per HP: 162.20
Pounds per HP: 12.01
Pnds per Torq: 11.59
HP per Liter: 64.9
Idle: 800 // Redline: 5,750 // RPM Limit: 6,000
Camaro Engine Specs
376 cubic-inch (6.2L) OHV V8
Aspiration: natural
Fuel syst: MPFi
Valves/Cyl: 2
Bore x Stroke: 4.06 x 3.62"
Compression: 10.7:1
Quoted HP: 426 @ 5,900
Starting HP: 414 @ 6,000
Final HP: 426 @ 6,000
Quoted Torq: 420.23 @ 4,600
Starting Torq: 407 @ 4,500
Final Torque: 419 @ 4,500
Credits per HP: 82.15
Pounds per HP: 9.10
Pnds per Torq: 9.23
HP per Liter: 64.1
Idle: 800 // Redline: 6,200 // RPM Limit: 6,750
Challenger Engine Specs
370 cubic-inch (6.1L) OHV V8
Aspiration: natural
Fuel syst: SMPFi
Valves/Cyl: 2
Bore x Stroke: 4.06 x 3.58"
Compression: 10.3:1
Quoted HP: 425 @ 6,200
Starting HP: 412 @ 6,000
Final HP: 425 @ 6,000
Quoted Torq: 420.23 @ 4,800
Starting Torq: 407 @ 5,000
Final Torque: 420 @ 5,000
Credits per HP: $94.18
Pounds per HP: 9.73
Pnds per Torq: 9.85
HP per Liter: 70.1
Idle: 800 // Redline: 6,400 // RPM Limit: 6,750
Transmission: 5-speed automatic (Mustang), 6-speed manual (Camaro), 5-speed automatic (Challenger)
Differential: (Mustang), (Camaro), limited-slip (Challenger)
Mustang Camaro Challenger
0-60 mph: 6.524 5.112 5.587
0-100 mph: 15.691 10.896 12.182
0-150 mph: N/A 27.350 30.000
1/4 Mile: 14.987 @ 98 13.542 @ 111 14.018 @ 109
1 Kilom: 26.718 @ 127 23.921 @ 143 24.627 @ 139
1 Mile: 36.834 @ 139 32.909 @ 158 33.805 @ 155
Test Track X*: 7:26.316 6:33.581 6:33.967
Daytona*: 1:01.238 54.031
Note: TTX was done while cars were still breaking in their engines, and the recorded info was from the end of Lap 1. Daytona was tested after full engine break-in, and features times from Lap 2.
100-zero mph: 5.085 4.733 secs 4.800 secs
Top Gear RPM @ 60 mph: 1,400 NA
Top Speed at Redline (Mustang)
1st: 43.7
2nd: 56.8
3rd: 87.0
4th: 135.3
5th: 156.8 mph @ 4,750 rpm
Top Speed at Redline (Camaro)
1st: 49.2
2nd: 69.4
3rd: 102.2
4th: 148.0
5th: 176.7 mph @ 6,200 rpm
6th: 176.6 mph @ 4,200 (lost speed in this gear. 176 is merely the speed the car was going after first upshifting)
Top Speed at Redline (Challenger)
1st: 44.9
2nd: 75.3
3rd: 119.7
4th: 171.0
5th: 177.6 @ 5,500 rpm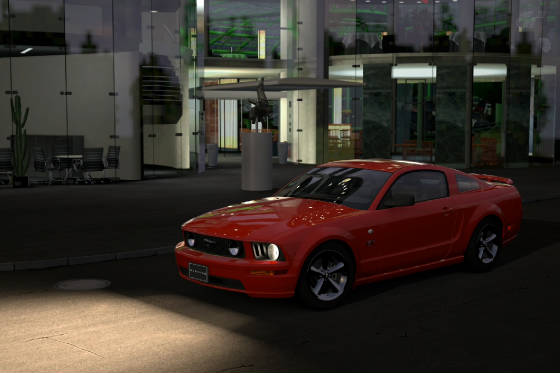 ---------- EXTERIOR / INTERIOR -----------
Modern American Muscle. That's what this car comparison shall be about. Every real-life car mag has had a muscle car competition after all, and so here's one for this site.
I recently read a car review written by a writer who is local to me. This review appeared in the Baltimore Sun or Washington Post (I forget which) and was based on the Subaru Forester. Not to get off-topic early, but this writer was mostly praising this SUV for its power and roominess, but then complained about its 'noisy engine'. Isn't that something? Aren't engines supposed to make noise?
Unlike the writer who trashed that Subie's boxer engine, I want to hear the noises coming from my cars, so you won't be getting any pansy "the engine's noisy" complaints from me! Matter of fact here are three automobiles which are guaranteed to make some noise. It is their very purpose in life.

Muscle cars. These are the automobiles which should have died off long ago, but somehow they thrive on. Animal-like with their ferocity, hunger for the road, and grotesque mannerisms; but dinosaur-like with their reputations, hunger for gasoline, and longevity on our roads. In some other review, I realized there have been three distinct periods of American muscle, and that we are now in the third phase. What does this mean?

Old muscle from the first era (1964 to 1979) is defined from a very specific set of rules:. I've mentioned these before, but here, let's do a quick review of them again.

(1). Carbureted V8 engine. Some say only a big block engine (about 360 cubic-inches or larger) will do, although nobody seems to agree what is considered 'small' and what is big. Some put the point between small and big at 390 cid, for instance.

(2). Front engine/rear-drive

(3). Solid (and live) rear axle, rather than an independent rear.

(3). 2-door coupe or sedan, but seating for at least 4.

(4). Emphasis on (straight-line) performance. Not cornering, economy, or luxury.

Any deviation from the above, and the 'purists' out there (the people who somehow manage to define such classifications for the rest of us) will not classify your vehicle as muscle. There were a great variety of these brutes of all shapes and sizes, but they all share the same basic traits: thunderous acceleration, yet not much control. Well over the years, things have changed.
Starting in 1979, Ford released their all-new Fox-body Mustangs, while Chevy and Pontiac eventually followed with smaller, trimmer versions of their Camaros and Firebirds, and axed a lot of their larger, heavier models. Although these were weak substitutes in comparison to those from the 1st-era, eventually some people began calling some of these 'Stangs (GT Cobras, for instance) "muscle", even though they only featured small-block engines. And as the '70s rolled into the '80s, fuel-injection began to replace carburetors. There was an effort to also try to make these cars safer, which means they were a bit more capable with braking and cornering. But everything else on the above list (front-engine rear-drive, live rear axles, etc.) stayed the same.

Starting in 2004, the latest edition of Mustang has re-kindled the fire, literally bringing the other two cars in this review back from the dead. The Camaro and Challenger literally were dead, after all. 2004 is what I like to call the dawn of the Third Era of Muscle, and these cars, as we shall see, are almost nothing like their dinosaurish grand-parents. Looking back to the First Era, the only item which remains from the above list is "front engine/rear-drive." Everything else has changed. Two of the cars in this review: the Camaro and Challenger, have larger engines, yet these still might be considered small blocks by some of the purists, since they are less than 390 c.i.d. Both of these also have independent rear suspensions backed up by stability and traction controls, which might make the purists have a heart-attack.

Some of you might notice that this comparison is a bit unfair to Ford. I really wanted to make this a 3-way comparison; totally expected I'd be able to have all three of the big competitors show up: Chevy, Dodge, and Ford, and that each car would be comparable with their available power, but the Mustang lags in this department. Unfortunately, the only Ford Mustang Polyphony Digital provides from modern times on the Premium lot is the Level 4 Mustang GT Coupe, which features an engine quoted at 299 hp from the dealer, and this is much weaker than the Camaro and Challenger. At the time, Ford did offer a 412 horsepower 5.0 liter V8, yet this engine is not available for us. Dammit.
So I mulled on this for awhile. Camaro vs. Challenger seems fair, but I really wanted to include the Mustang, too. Excluding it altogether would be like throwing a party, but the one guest everyone expects will be there doesn't show.
So that is when I said "screw it". I want this as a 3-way, and this is how it's gonna be. Ford will lose some points during any sort of Lap Time or movement tests, but perhaps will do just fine in other areas. Car comparisons aren't always about speed, after all.
All three of these cars are defined as Premium by the way, which means they feature full dashboards, mirrors, visible seats, et cetera, and all this stuff is going to be judged during the final comparison. Each car also features a 'retro' look, which means they derive their exterior features on versions of Mustang, Camaro, and Challenger from the past. In all three cases, what we have here are Third Era muscle getting styling cues from the First Era. Blocky and determined, gaudy and not always pretty, these cars have still managed strong sales, and from a client base which is not always just males, and not always baby boomers having mid-life crises, either.
2007 Ford Mustang V8 GT Premium
Well, let's have a look at the Mustang first. I recently learned that 70% of all 5th generation Mustangs are V6-powered by the way, which is an interesting fact, eh? Back in the '60s and '70s, it seems the V8 was the one folks bought by default. Well we don't have any V6-powered 5th-gen versions in GT5, not that any of us are complaining.
The 2008 Ford Mustang V8 GT Coupe Premium bears a semi-aggressive demeanor first seen on Mustang Bosses from 1969: a blocky shape overall with angular bends and curves thrown in here and there. Round headlights matched with round fog-lights, and these fog-lights are set on the inside of the grille. We also have a small spoiler on the trunk, and triple-compartment tail lights. What is interesting, though, is the interior of this car also carries on this retro theme to some extent; with its deeply-set dial-style gauges featuring easy-to-glance red-colored needles, elongated numbering (which is copied from '60s-era dashboards), and what appears to be chrome accents around the instrument assembly. The door handles are metallic, and the dash looks as if it's aluminum-plated from door to door. The original Mustang probably did feature actual metal on its dash, but the modern one? It's most-likely to be some sort of plastic. Ford's trademarked Mustang icon appears at the top of the windshield, reminding us that this car's got heritage stretching all the way back to 1964 and a half.
When looking at the rest of the interior, some questions get raised. The stick-shift looks proper, but there's a couple features that seem out-of-place, like the temperature switchgear, which uses dials also seen in the Taurus, Explorer, and other modern Fords. It's a small issue that I have; the way the gauges, steering wheel, and stick-shift are kinda old-fashioned, but here we have some modern pieces that I've seen in other modern Fords. It's not just the 'modern' part that bugs me, it's also the 'shared' part.
Visibility is neither great nor awful. The windshield is short and compact (we're not driving a minivan here) but the side glass is massive. The mirror on the driver's side is about halfway off-screen, but the dashboard mirror gives us three-quarters of visible surface to work with. The horn is a typically regal American trumpet-like blast, which becomes merely a sad 'wank' once the car's rolling at full speed, wind and engine noises doing their thing.
Although I'm not judging yet, everything discussed about the Mustang so far (its iconic looks and reputation, especially) pleases me. Ford hit a virtual grand-slam with this one. D2C Mustangs in GT5 (both the '05 and '07) are showing their age, unfortunately. It's a shame we haven't got newer Boss-version cars in the game. Some may find the Bosses to be uglier, or too space-age looking, or whatever, but the Boss has had a makeover. That's the point I'm trying to make here. Back in the '60s and into the '70s, when cars didn't last as long, makeovers were a lot more common; literally a car's appearance (not to mention its size and weight) could change or vary every couple of years or so. This was a way of keeping sales as high as possible, a way of attracting new buyers and keeping their loyalty. In 2010 the Mustang GT had become such a familiar face, in my opinion a little too familiar. But overall, the new Mustang accomplished what it set out to do.
2010 Chevrolet Camaro SS
In the '60s, the SS was an upscale appearance option available to those who wanted a Camaro which was a bit more specialized than the base models. There were lots of options back in those days, and we've got a few in modern times as well. In 2010 there were three versions of Camaro to choose from: the LS and LT both featured V6 engines, while the SS had the monster V8. After its release, it quickly became known that Chevrolet had 1-upped Ford big time, since its V6 models (rated at 300 hp) featured more power than the 280 c.i.d. V8 in the Mustang.
Eye-catching and not suffering from the Mustang's dated appearance, Chevrolet was adamant that this new Camaro is not a muscle car. They insisted it be taken more "seriously", that it be judged on the same scale as a BMW 3-series. Whaaatever dudes. Not only am I and a hoarde of others defining this car as muscle, I am also going to take it a step further: this one doesn't just have a muscular engine, it's got a muscular look. Of the three, the Camaro SS actually looks muscular, like it's spent long hours in a gym, endlessly training for its next fight or track meet. Its fenders bulge upwards and outwards, its stance is wide, its 245-width tires are the most visibly massive. Does the SS not appear to be just like a big, bulky jock? A fullback on a football team perhaps, with shoulders which look as if they could knock anyone out of their path?
Big and gaudy this machine is, yet it's also got a flowing set of curves thrown in; a perfect combination of beauty and ugly. Nothing like the two previous shark-nosed generations of Camaro. The Camaro's design is certainly not as prettily-sculpted as a BMW's, yet it's not as Americanisly-ugly as a Chrysler 300. This can be said, however: instead of coming off as European and M3-like, the Camaro SS is firmly American, so far as its looks go.
The only area I have an issue with is the rear portion of the car. Love the rectangular taillights, love the spoiler, but the actual trunk itself looks a bit shortened, a bit smashed-in or something. And another thing...where's the bumper? This one's got a nearly-nonexistent rear bumper which barely juts outwards. Compare the Mustang's rear bumper; which is a lot more obvious. It's a trend amongst the latest of muscle (including the newer Boss Mustangs) that I don't entirely 'get'.
All of this is fine functionally, since there is less rear overhang, and this means the rear's not gonna get as sloppy with body-sway oversteer as we drive it, the way a 1st or 4th gen Camaro might. But aesthetically, the rear of this car bothers me. Have a look at the Camaros which inspired this 2010 SS, and there's a longer rear section going on, which gives the entire car a more balanced look to it as we gaze at it in profile.
At 3,868 pounds, this car is the middle-weight of the group: several hundred more than the Mustang, and several hundred less than the Challenger. Kinda sad. Original Camaro SSs from 1967 weighed just under 3,100 pounds if they came with the 327 cubic-inch engine. Those with larger engines (like the 396 in the '70 Camaro SS) weighed just north of 3,500. Although (as we shall see) the new Camaro handles its weight rather well, pounds are still pounds. I'd like to see less of them, personally.
The Camaro's hood is HUGE! The hood is gigantic, yet another reason why this one simply demands to be defined by the "M" word. Like Camaros from the '60s, the headlights are hidden slyly and slightly by this hood; or at least they are recessed into the car's front bodywork a bit. The rear of the car also carries on with its retro theme with its rectangular taillights, and we can buy our Premium Camaro SS with a racing stripe (or without it) if we so desire.
While this one is aiming for the past with its exterior, inside the cabin the SS carries on a different theme. Instead of old-fashioned gauges of painted lettering, the Camaro gives us a rather modern set of dials: both the speedo and tach are LED-lit, and there's a rectangular area in the middle which also includes a small miles-per-hour indicator with a numeric readout. I've seen similar indicators in other cars: the Nissan GT-R, and Lexus IS F, for instance. Must be one of the new fads amongst performance cars. Although the Camaro's dials are eye-catching with their vibrancy, I found them rather difficult to read peripherally.
As I'm driving I watch the road, but I also spend a small amount of my ocular power towards the gauges themselves. I try to do this without taking my eyes off the road, is what I mean to say, and I find that the tach in this car is difficult to 'eyeball' most of the time ... the speedo downright impossible. Even though they are backlit, these gauges are rather difficult to actually read at-a-glance. The needles are too short, and barely register at times, especially on a sunny day, a glare of sunlight shining into the cabin.
The rest of the interior is dark gray and rather dull, making it tough to tell whether Chevy was going for a racy interior, or merely a modern one. Only once getting a look at this car's console area (the stick-shift, radio, etc.) in Photomode could I truly form an opinion about which car I'd prefer to spend the most time with, while not actually driving it. :-) The interior does look racy, but it's also firmly modern. OnStar buttons can be seen on the mirror, for instance, and a lot of switchgear looks late-model, rather than retro. Compared to the others, the Camaro's interior is the least interesting overall, in my opinion.
Visibility inside is not as good as the Mustang's, the windshield offers less area to see out of, matched with a hood which slightly blocks our lower vision. A lot of performance cars nowadays (American ones, anyways) have been going for this trait for some reason. The center mirror is small, but is also fully on-screen, while the driver's side mirror is about half off-screen. The interior of this car seems a bit cramped perhaps, but hey! It's a muscle car. And its cramped interior is probably an improvement over Camaros from the past.
2008 Dodge Challenger SRT8
Here's the final car of this competition. In the 1960s, the Challenger was one of the latecomers to the party, and was partially created by Dodge to compete in SCCA's Trans Am racing series. Unlike the others, it did not begin assembly until 1970. In its first year of production it sold 76,935 copies, but unfortunately numbers fell rapidly after this particular year. Not only this, but the Challenger also stayed true to its namesake; it always remained the 'challenger' of the group, only rarely becoming champion.
Back in the First Era there were (as usual) dozens upon dozens of options for this car: ragtops, hardtops, three different possible transmission, eight different engine sizes, subtle differences with lighting scenarios, bumper & grille shapes, hood scoops, and so on. In modern times (with their modernly tightened budgets), Dodge provides us with three models: the SE, R/S, and SRT8. The SE was priced for economy at just over $21,000 during its 2008 debut. It had a 250 horsepower V6, and a 4-speed automatic. Not bad, but the R/T steps things up a few notches, featuring the same 5.7 liter Hemi V8 that's in the Chrysler 300 rated at 370 horses. It's got a 5-speed automatic (a 6-speed manual is optional, and listed at just over $29,000 in 2009. But we don't get to play with those weaker models. The car in our game is a lot more powerful and deadly than the SE or R/T.
Unfortunately, it's also a lot heavier, as well. At
4,139 pounds
, the SRT8 is well beyond ANY poundage found amongst a
ny
of the others in this review, not to mention any Challengers from the '70s. This car is 271 pounds heavier than the Camaro SS, and
547 pounds
heavier than the Mustang. In comparison to First Era Challengers, a 1972 Rallye with a 340 c.i.d. engine weighed-in at 3,455 pounds. I couldn't find an exact weight for a Hemi-equipped version, but
www.challengerspecs.com
claims 'typically over 3,800 pounds'. Although this site is rather vague about which model they are talking about, it's easy to assume it must be those with the biggest engines.
Keeping all this in mind, it seems the newest Challenger may be a muscle car, but it sure is carrying lots of fat as well!
Its muscle mass is definitely there (yes it's got a Hemi) but one can't help but notice this one's also quite heavy on the scale. It's like a pro-wrestler who once watched his carbs while piling on the steroids, worked out with a trainer day in day out ... jumping-jacks, weight-training, punching bags, etc. But over the years, he's gotten lazy. Too many days off spent lounging around the pool at the Hilton, drinking Cokes and Coors Lite instead of PowerAde and spring water. He's still got the looks, and he's still got some of his reputation, and this is all that matters. Most of the time, people don't notice that he's gotten too fat and too coddled; they love it when he makes an appearance, anyways.
All three cars: Mustang, Camaro, and Challenger, have managed retro looks; it's hard to say which is the most iconic. Personally, I am often confused by the new Challenger in real-life. There's often a half-moment when I see one from a distance, and mistake it for a '70s Challenger or Barracuda, which of course are extremely rare to see. Like the Camaro, the Challenger also partially hides its headlights under a sloping front. This hood features functional hood scoops, in the sense that they are open, and allow air to cool the engine bay, but they do not feed air directly into the intake. We've got no "Shaker" hood scoops for this animal, not in these modern times and straight from the dealer, anyways. :-/ But at least those scoops aren't just dummies.
The Challenger SRT8 is also a very large car--nearly 10 inches longer than the Mustang, and 7 inches longer than the Camaro. The Dodge has the longest wheelbase as well: 116" compared with 107.1" and 112.3", respectively. So arguably, someone can say the Mustang GT and Camaro SS could be defined either as ponycars or musclecars, while the Challenger SRT8 is firmly in the latter category.
The Challenger's got a delicious profile, I must say. It's a blockier look (compared to 1st Gen Challengers), but it's also got some curves mixed in, especially on those rear quarter panels. Like the Camaro, the main area of the Challenger that turns me off is its rear section. Again, something about it--it's too short and looks 'smashed-in', which doesn't jive with the flow featured on the rest of the car. Wheelbase is "in" with today's market, while front & rear overhangs are "out". Perhaps it has something to do with safety; Dodge (and Chevy) did not want to release a car which has minimal rear seats, the way 1st and 2nd-era muscle often had, so they lengthened the expected wheelbase area, and shortened the trunk. Again, this has a beneficial effect in a functional way, since there's less rear overhang being slung around, but if I were at the helm of the design department, I'd go for something with a bit more balance between the front, middle, and rear sections.
I also kinda dislike the bumpers on this car. In the past, bumpers were always separate from the rest of the bodywork. Nowadays they're always internal, and what we see from the outside is just a large, molded plastic cover, basically. Although Chevy and Dodge are not solely to blame for this phenomenon, I prefer the Mustang's bumper areas most of all. Here we've got a set which both jut outwards, and there isn't as much of a sense of 'errm...we've got to trim these back' in the Mustang as there is in the others.
I do love the Challenger's solid-bar taillights. Even though they are shared with the Charger as well, this portion of the car is eye-catching, stylish, gaudy (hey ... look at THESE, they scream!) but not too gaudy. Overall the rear lighting scheme is fresh and appears original, even though it's copied from other Dodge models already extant.
The interior of the Challenger is also going for a bit of retro. The website link I posted up above (Challengerspecs.com) has a few grainy black 'n' white pictures of original Challenger dashboards, so we can compare these to the modern car in our game. It's obvious that new seems to have copied from old, to some extent. Like the Mustang, the Challenger has old-fashioned gauges and red needles, but these gauges have a bit of 'modern' mixed in, as well. From left to right, we've got a fuel gauge, speedometer, tachometer, and engine temperature. All four of these feature black lettering against a silver-white surface, but then there's some greenish LED-lit stuff here, too.
Located below the speedo is a batch of symbols which look as if their origin could be Mayan or Incan; some sort of unintelligible designs from some lost civilization, anyways! And I haven't a clue what these designs are supposed to represent. Below the tach, it shows us which gear the automatic transmission is in: P, R, N, or D. It works, too! Shifting from one to the next does move the dash-light from one selection to the next.
Unlike the Camaro's gauges (but similar to the Mustang's), we've got physical needles tallying off that information, not fictions of LED imagination. The Challenger's needles are long and red, too. Against that silvery-white background, it's always easy to get a sense of where we are with speed and engine revs, even though the numbers themselves on these gauges are a bit difficult to read unless you sit there and focus on them. But the ability to know where we're at? The Challenger does deliver, here.
The rest of the dash is (as usual) black, or perhaps dark gray, for the most part. Visibility in the Challenger is definitely the worst. Both the Camaro and Challenger are affected with America's fad of 'high waistlines', which means tall doors and lower body panels, but not so much glass. The Challenger's glass is definitely the most cramped, though. On the other hand, this one's got a center mirror which is almost fully on-screen, but a driver's side mirror which is almost fully off. Hmm.
The horn's rather wanky, but it's got slightly more depth than the others. It seems all three of these cars feature wanky horns, instead of something with more tonal depth, to compete with those loud bass & mid-rangey engines.
Overall, I do like the Challenger's design. I like all three cars, matter of fact, they're all iconic and stylish. But they've also got their ups and downs, once we start looking into other areas.
Price
Now starts the cursory comparing from one car to the next (beyond superficial appearances), and it all begins with price. Which one of these features the most "bang for your buck"? Or perhaps, "cream for your credit" is more appropriate here.
None of these are cheap. Even if we factor inflation into the picture, the cheapest of the cheap (the 2010 Camaro SS) has a price of
$35,000
in our game. This translates to about $5,800 in 1970 dollars, which is roughly $1,800 more than the most expensive of muscle from back in those times. And from here, it only gets worse. The Challenger's game price of
$40,027
seems high, but this closely matches the cost of a real-life SRT8 for the model year 2009, which listed at $39,320 according to
www.nctd.com
Now get ready to laugh, folks. I mean, get ready to laugh, or perhaps even cry. The Camaro and Challenger ... are bargains compared to Ford's Mustang GT, which at $48,500 is $8,473 more than the Challenger, and $12,500 more than the Camaro! Wow. 48 large for a car that's slower, older, and (arguably) a bit dated, as well. If you're laughing or crying now, you might begin swearing in a moment, when it's realized that real-life Mustang GT Premiums only cost $27,020 for the coupe versions, or just over 30 grand for convertibles. ... Only when we start looking at the most powerful of Mustangs (Shelbys) will we finally break the 40 grand barrier.
It's not Ford's fault; technically it's PD's. But there's still some points being docked from Ford's tallying for this outrageous rip-off of credits. I mean, c'mon...
GT Auto Options
All Premium cars seem to have options with spoiler & wing kits, so I checked these out, too. The Mustang and Challenger both allow us to install a front spoiler and a trunk-wing, but no fender flares or side skirts. The Camaro gives us all the options: two types of front spoiler/side skirts, three rear baffle kits, a set of front fender extensions, and a couple wing kits. And if this aint enough, Chevy also allows full racing modifications to be made on this car.
On the other hand, Dodge has got both these boys beat when it comes to wheel options: GT Auto offers 20 different wheel selections for the Challenger. Ford gets 16, and Chevy gets the least: 12. One of Chevy's options is pretty cool though: yellow lettering (saying Goodyear) gets added with one of its wheel choices.
So far, so good, eh? Now, let's take a gander at why these automobiles are called "muscle cars".
----------ENGINE / DRIVETRAIN-----------
Michigan steel, Detroit iron. Or aluminum, at least. :0 The heart of any car, muscle or not, is its engine, and we've got three to gaze upon today. It's a shame we can't have a look at what's under the hood in our games, but to be honest most cars nowadays haven't got much to show.
I can't tell you how many times we've had a new Aston Martin, a new Corvette, a new BMW come into the shop that I work in. First thing we usually like to do is look under the hood. In the old days, what we usually saw was something which caused some sort of reaction, usually a positive one, a sigh or an "ohhh wow". A sequential set of plug wires, obvious valve covers, a shiny set of fuel-injection racks, or a twin or 4-barrel carb, a gleaming block of iron, even aluminum, all sitting under a massive, kingly-looking fresh air box. Not only were these engines fast and torquey, they also looked good once the hood went up.
Nowadays, what's usually seen is a "sea of plastic". Literally, they often cover up the good stuff with a series of plastic panels, and usually some key engine parts (like the intake manifold) are also plastic! I'm not saying the Mustang GT, Camaro SS, and Challenger SRT8 suffer from this nonsense (I have yet to see any of these models in my shop), but it wouldn't surprise me if they do. I know the Charger with the 5.7 liter Hemi which was in my shop earlier this morning showed mostly plastic, plastic, plastic under there.
Let's talk about the Mustang first.
One criticism right off the bat with the 280 in the Mustang isn't its lack of power, it's this car's redline area. Ugh. We've got a 5,750 rpm redline matched with a 6,000 rpm limit. The words "what were they thinking?" come to mind. Oddly, the '05 Mustang in GT4 made peak HP at 5,750, and redline was at 6,000, but then the limit did not show up for another thousand RPMs! This means we could keep this car in gear deep into redline, grabbing as much gumption as possible. Also, the real-life 280 from this time featured a 6,250 limit. Taking this final fact into consideration, it's obvious that here we have a bit of a screw-up from Polyphony Digital.
And as usual, the reason why this is a screw-up happens all the time--the driver wishes to make max horsepower, goes for it, makes it, passes it, but then has to worry about lost speed as well, as the annoying limit can quickly be met. During my track-testing, it all too often was met. Quite a lot.
But other than this, there isn't much to criticize. During muscle car reviews, it's the engine which typically receives the least word-bashing, after all. The 280 sounds great. It's got a deep throb at idle, which turns into a metallic growl as the revs rise. Rev the engine up slowly, and the sound and timbre of those RPMs vary, so that the car's got a different sound every 1,000 RPMs or so. All very nice and pertinent to the genre.
All three cars have extremely tall gearing, and in this Ford we've got a Tremec 5-speed automatic rated at 207 mph. A far cry from the typical sub-140 we might find from a First Era car. And how do I know it's an automatic transmission? For one thing, the driver never shifts gears as he's revving upwards or downwards. Also: Have a look at the stick-shift, located up above in the picture taken while in Photomode. That's clearly an automatic shifter. In 2007, Ford offered a 5-speed manual, a 6-speed manual, and a 5-speed auto with the 280, so it's odd PD chose to model this car as a 5-speed, and an automatic 5-speed, at that. Perhaps this is why this engine's redline/limiter area is so ... limited.
The gearing in all three cars is tall; not to give them a higher ceiling with speed, it's set this way so Ford, Chevy, and Dodge can make the best fuel mileage possible. In some cases (during some past reviews of cars with tall gearing) what wound up happening is the top gear (sometimes gears) might become useless. It is so tall, there is no point in even shifting that high during racing situations, lest a bit of lost speed might have an effect. The '05 Mustang I reviewed a few years ago in GT4 is an example here; 5th gear (configured at 0.710 matched with a 3.31 final drive) is not nearly as useful as it could have been.
Unfortunately, things have not changed two years later. Although I was able to use 5th on occasion, choosing the top gear drops the revs all the way to 4,100. What should be an easy/quick 150 mph now becomes an uphill struggle. Literally, the 'Stang began to struggle as it climbed the hill at Test Track X (losing 10 entire miles per hour) just after it made 150 mph. This isn't a problem at all once we're stacking up some horses, but while the car is stock its top gear is more of a curse in the long run.
The Mustang unlike the other two wound up getting the most power upgrades, so it could compete in the Supercar Festival, and these upgrades will be displayed in a minute or so. Unless you read really slow; in which case they'll be displayed much later than a minute.
The Camaro features a 376 cubic-inch V8 which always moves like it's anxious to be somewhere. It's an easy car to launch from idle, too. As I tested this car's acceleration (starting from idle as I usually do), I expected I'd have to tame the throttle or something to avoid wheel-spin, yet this was not the case. The 376 sets-off easily, its rear tires able to maximize their traction from the very start.
Unlike the Mustang with its super-short post-power area, the Camaro's horsepower peaks at 6,000 while stock, has a much more sensible 6,200 RPM redline, and a limit which shows up 500 rpms later. Just to compare, this means the Camaro's got 700 rpms of revving fun before the limiter cuts us off, while the Mustang only has 250. Therefore, I simply never hit the Camaro's RPM limit; never had to worry about this limit ruining a good launch out of a turn.
Although I can't fairly compare the Mustang's 280 with the Chevy's 376, I'll just make a quick comment on the Chevy's engine, which starts pushing with useful (and sometimes violent) torque starting at 3,000 rpms in 3rd gear, and this means we've got close to 4,000 rpms of revving area as we're cruising out of medium-speed turns. That doesn't match the latest BMW M3's 5 or 6,000+ rpms, but 4,000 is quite a lot, especially with this car's tall gearing to dole thru.
Now, here's a bit of reverse-criticizing, this time aimed at the Camaro!
Unlike the Mustang, the Camaro's top gear is completely useless, especially with stock power. Gears 1 through 5 are solidly useful, but once we shift to 6th, the car started losing speed, rather than maintaining or gathering it. Sad but true. 6th only became useful while racing at Daytona Superspeedway with extra power, and only while drafting another car.
Another final criticism is the Camaro's engine note doesn't really stir me in quite the same way as the Mustang's. The 376 purrs with contention at lower revs, but as these RPMs rise, there's a rather unitarily loud blaring going on. I'm not hearing the same variety of timbres, tonalities, and tenor-notes that the 280 blasts; instead, there's this singly loud 'blare' once we get into the peak torque/peak HP areas. It's not the most horrible EVER, especially once we start comparing some 'muscle' from PD's previous games, but during this comparison, the Camaro's noises are my least favorite.
Speaking of engine sounds, the Challenger is hands-down my favorite. From idle to redline, the 370 cubic-inch Hemi V8 has got an old-fashioned set of aurations to it that throw me back to earlier times. Threateningly bassy at lower revs, the Hemi starts to scream as we climb above 3,000. There's a mixture of valve, lifter, intake, and crankshaft sounds. Exhausts, not exhaust. We've got an old-fashioned OHV configuration here, and the sound of those valve-lifters going taptaptaptaptap as revs rise into their peak areas is much more obvious (and delicious) in the Dodge than it is in the Chevy. This powerplant sounds more like something from a Challenger we might hear from Penske and Parnelli's day than something from modern times, inside or out.
Actually, from the outside, what we've got from those giant rectangular muffler openings sounds the most like a racecar in comparison to the others. The Dodge therefore delivers on a more emotional level in these ways than the other two do, in my opinion.
Unfortunately. Unfortunately. Hate to have to use that word. But once again, we've got just over a squib of redline to play with instead of something really meaty. Redline starts at 6,400, and ends at 6,750, and it seems to be due to the fact that (once again) the engine is turning an automatic tranny instead of a manual. Comparing side by side, the Mustang has the least redline area (250), the Challenger has 350, and the Camaro has 550. On the plus side, the Challenger's peak horsepower shows up at 6,000, giving us 400 more until the redline starts, so Dodge has at least 1-upped Ford, here.
Starting down the road, the Challenger's 370 roars off with a tone and a strength so delicious. Despite those pounds, the car moves with dignified speed, the automatic 5-speed lowering those revs into the 4,000s almost every time. Torque now gets to have its say, and I get to listen to this car rev up through its rpms over and over. Although not ideal for hot-shifting, this engine's got a soulful feeling to it only partially captured by the Mustang, and completely missing from the Camaro.
Errm...what was that? 5-speed automatic? Umm...yeah. Yes, you read that correctly, we've got no top extra gear here. The driver may actually shift gears, but in its early years of production the SRT8 only came with an auto-tranny, and this is confirmed by the "PRN D" designations underneath the tachometer.
But if you think about it, the Mustang is also in the same boat. The Camaro does have a 6-speed, but Gear 6 (as mentioned earlier) is about as useless as a submarine with screen doors. There is no real advantage to the Camaro's extra gear, you see. But what the Camaro has over the Challenger is the ability to choose, and also the ability to redline (or not) to get some extra speed. Though the Challenger's 400 rpms is helpful, it would be really helpful to go even further, and then land that tach-needle somewhere higher than it usually lands, especially at Nürburgring, Eiger Nordwand, and other slow-n-go tracks. Unfortunately, the Hemi (as mighty as it is) must often climb a steep ladder out of a deep well of revs, over and over again.
Let's discuss overall options, so far as raw power goes, on the aftermarket. I think you'll be rather surprised.
| | | | |
| --- | --- | --- | --- |
| | | | |
| | | | |
| | | | |
| | | | |
| Tuned Power (includes all oil, intake, exhaust, & ECU options) | | | |
| | | | |
| | | | |
| | | | |
| | | | |
Interesting how the Mustang starts off as the weakling in the locker room, but after months of training, it climbs the farthest overall (433 horsepower from Starting Power to Stage 3 + Supercharger), making 2nd place by the time all tuning options are in place. Dodge's Hemi begins its life slightly weaker than the Camaro, but by the time the major engine stages begin, the Hemi rockets ahead and doesn't look back. Overall, we're looking at 378 horses of improvement.
The Chevy's 376 initially walks into the virtual locker room, the one in which all the backtalk, towel-snapping and bullying really goes on. Not only does it have the bulkiest look, it's got the best power to start with. But by the time all is said and done, it's got the worst improvement (if we can call 291 hp of power-stacking 'worst'). It may have walked into that locker room full of pride, but months later it's the one who finds himself needing to suck it all back. Granted, the Camaro is probably the one which could actually use its maximum power with minimal consequences, and we'll discuss why in the upcoming chapters.
So that's the Engine section. Though all three cars had driveability probs with their transmissions on some level, and the Mustang lags compared to the others, all three also had some good marks (some positives) in the points department. Now, let us visit an area which muscle cars usually have ... some difficulty with.
-----------CHASSIS / HANDLING----------
Now we come to the part muscle car enthusiasts love to hate (or simply ignore), the driving impressions. :) Handling, and maneuverability.
I've driven all three cars all over the place; trying initially to get their engines broken-in. I also did lots of testing after break-in was achieved, and finally some races. Back in GT4, perhaps I might have let "Bob" do a good portion of driving as well (to get those engines broken in a shorter amount of time), and I did allow some GT5 Bobs behind the wheel on occasion. But I did most of the driving and racing myself: starting with laps around High Speed Ring, Nürburgring GP/F, and the Test Track X. Each car was also driven at Grand Valley Speedway and Eiger Nordwand's short track, and finally raced in the Pro-level Supercar Festival, just as the BMW and Lexus did during the comparo between those two upscale luxury cars.
One thing to explain up-front. During that previous review (BWM M3 vs. Lexus IS F) points were docked for any deviant sort of behavior which caused lap times to suffer. During this review, however, there'll be some new categories specific to the Mustang, Camaro, and Challenger. There's going to be some sort of "burnout" comparisons, for instance, since these are muscle cars, after all, right? A burnout comparison is something a BMW or Lexus driver (especially an upscale one) might frown upon in a luxury car comparison, but this seems completely appropriate during this review.
2007 Ford Mustang GT Premium V8
All three cars are equipped with the typical junk we've become so used to hearing about: traction and stability controls. And so I made sure to have this 'junk' turned on during initial driving. On top of this, the Mustang (for whatever reason) has been shod with soft radial tires instead of sports, and PD (not Ford) is to blame for this. Both Challenger and Camaro SS come stock with hard sport tires. The Mustang therefore suffered a bit more than the others during cornering, just as it did during acceleration & speed tests in the above chapter.
I had a "talk" with Ford about this. Sometimes in real-life comparison tests, cars show up to the magazines doing the tests equipped with the wrong parts, and in some cases, the folks reviewing these cars do allow changes to be made. So I did this as well: had my little talk with the folks in Dearborn, and they gladly provided me with a set of better tires. Good thing too, the Mustang's scores need some help.
But I did do some driving around High Speed Ring II with the lesser tires equipped, along with TCS and ASM doing their things. Best I could do during 3 laps of driving was 1:27.945. With the sports, this dropped to 1:27.549. With the 'junk' turned off, I was now able to easily manage 1:24.411 after 3 laps.
First Era muscle cars may have gone fast, but this assumes they were running in a straight line. As soon as the corners showed up, they often were like athletes who had forgotten to tie their shoes; unable to maintain any sort of grip once they needed to slow, and tripping over their own shoelaces. Well that's all changed. Notice how the Mustang GT now gracefully tackles the large curves of High Speed Ring. While it does begin to show more difficulty once it gets to Germany, the GT is nothing like a Boss or a Mach 1 from the '60s and '70s when it comes to cornering.
There's a firm limit of understeer here at High Speed Ring. Driving onto the banked turns, the front-end gives us this limit of pushing, but the good news is it's easy to maintain this limit. A 1970 Boss 302 might be pushing so much at this point, the driver might need to tap the brakes as the turn gets deep, but in the '07 Mustang, all that's needed (typically) is a bit of throttle-taming. The car holds its line, and that is all.
Leaving turns? There's also quite a balance being displayed. On the banks, the Mustang might keep that firm front-end limit going, but occasionally the rear now assists with a bit of throttlesteering that makes things just peachy, just delightful. While this car doesn't truly have neutral handling (this is not a sports car), it's a lot more neutral than any previous generation of Mustang.
I expected I'd be able to kick the rear of this horsie around a bit out of HSR's sole hairpin, and (as we shall see) this particular turn presented occasional problems for the other two. But the Mustang doesn't get too wild here. Probably due to those tires, of course. With radials equipped, the rear would get smokey out of a turn like this, but the sports offer more traction, letting all 290+ horses out of the barn with barely a stomp.
At Nürburgring GP/F, I was able (of course) to get some more drastic handling consequences. The front-end no longer offers its former "safe" limits, now it'll plow a bit into certain turns like a rabid farmer on a cornrowing mission, assuming the driver's not carefully braking-in beforehand. Unlike GT4, there is virtually no exit-understeer, but entering turns can still be a problem! Fortunately, the brakes are strong in this vehicle. Brake appropriately, and the front tires lock into a groove that's hard to break.
But there's something else here; there's an overall feeling with this car at this particular track. Perhaps I'm used to driving cars around which always have lots of horses under their hoods (since they've all been Supercar Festival material so far), so when I drove the stock Mustang around (stock, except for those hard sport tires) there was a constant feeling of slowness going on, especially with TCS and ASM activated. But of course, after turning this stuff off, things only become more exciting.
Exiting turns with the junk off? Finally this car starts to feel a bit more wild, a bit more musclecar-ish. The rear now explodes and bucks on occasion, like a wild stallion getting spooked! And the good thing is (unlike the Challenger and Camaro) a lot of this action is easily tame-able while driving the lesser-powered Mustang. I can choose to make it happen. Or I can choose to go for a safer rear-end throttlesteer, instead. Oftentimes, it's possible to give partial throttle out of those tighter areas, and then predictably watch the car tighten up its line from mid to late-corner.
Unfortunately, with this car's combo of tall gears and awkward RPM limit, very often the engine would be pushing 3rd gear instead of 2nd out of turns (sometimes 4th instead of 3rd), and this makes for noticeably slower getaways at Nürburgring GP/F. Those middle revs (3,000 to 4,000 RPM) stir my soul emotionally, they make me smile with their burbling warmth, but they're of little help when it comes to lowering lap times. Again, it would be much more useful if we had that extra 250 rpms to play with on the redline. 250 doesn't sound like much, but leaving the gearbox in 2nd (even for a fraction of a second here and there) would make for a much more lively driving experience, as well as lower digits on the lap counter.
Anyways, at best I could make 1:37.079 with TCS and ASM on. This dropped to a much more-satisfying 1:32.092 once the aids were disabled. So that's High Speed Ring II and the 'Ring's GP/F circuit. For this comparison, I also decided to do one final test drive at Eiger Nordwand's Weather Change track, and this one should actually help the Mustang with points. The aim? Controllability upon a wet surface.
I decided to select a "50/10" setting for Weather at Race Start / weather's ability to change, and also 50% surface water. Predictably, the Mustang kept its heavy feeling of stability at all times, except when cornering heavily, and also while leaving turns under fullish throttle. The car understeered more heavily on-entry at this wet track, yet it certainly was not impossible to command. As long as braking distances were lengthened, the amount of plowing into turns could be kept at a minimum. Assuming this rule was followed, the Mustang kept its usual 'on-rails' feeling as it was mid-turn, throttle un-applied, or lightly applied.
When leaving turns, there was the usual choice of "get as sideways as possible", or not. The Mustang offered a great variety of behaviors at this point; but there were times this horse was getting pretty wild, kicking up a rooster tail of wetness! Despite this, a casual flick of countersteer would bring it all back under control. Climbing the final hill (after the tunnel) at Eiger proved fun, as I could predictably get the car slightly sideways...in 3rd gear!
Best I could do at this track after 4 laps of driving was 1:26.391. I am sure the Camaro and Challenger will be able to easily beat this, but will they be able to do so as easily? Will the amount of overall control remain at my grasp while driving these monsters from the 400 Horsepower Club?
2010 Chevrolet Camaro SS
Drove this one first around High Speed Ring II, just as I did the Mustang. The Camaro SS also offers the same understeer-at-the-limit that the Mustang does, only difference is it's got the benefit of genuine Brembo calipers to help us slow things. Notice that the SS slows from 100 mph to zero 0.352 seconds less than the Mustang does, but 0.200 seconds less than a '69 Camaro. That's interesting, that a Camaro from the sixties slows in less time than a modern Mustang, and that's without the benefit of ABS brakes. Either I botched my brake-testing for one of these cars somehow, or the Mustang's braking power is worse than I thought it was.
Entering turns, the SS will initially hold a firm line (assuming its minimal understeer is avoided), but then it'll start steering more-firmly inwards with lift-off once the brakes are off. In this regard, it actually IS more BMW-ish than muscle car-ish. This is a trait which doesn't always show up right away though; it's not 100% predictable, the way it would be in an M3.
Leaving turns (at this track with its wide curves) can be fun or somewhat tricky, especially if we are talking about the two non-banked turns. The 376's extra torque and horses can get this car's rear tires screaming more easily than in the 'stang, but of course, sometimes the driver might not want such behavior. Therefore, the throttle must be more delicately placed at this track.
I drove the Camaro with and without driving aids. Although I forgot to record my times with the aids on, without them I managed 1:16.699 after 5 laps.
At Nürburgring GP/F, I managed 2:24.822 with the aids on, and 2:21.872 with them off. Notice this difference of 2.950 seconds, and that there is not as much of a diff in the Camaro as there was in the Mustang (in which I managed a difference of 4.987 seconds with and without aids). Why is this? Well, it's partially due to the fact that with the aids off while driving the Camaro, so much effort must be placed into getting this car to launch properly, and without time-consuming wheelspin. With traction control on, it's easy to just jam the throttle and get instatn results, without serious consequences. The Mustang allowed me to utilize its power-band and traction much more effectively, so that getting this car out of the 'Ring's worst areas (watching the ghost car from previous laps fall behind over and over) wasn't as difficult.
I also tried something new here in Germany: I loaded up a BMW M3 ghost replay (2:22.897) which was made back when I was comparing this car to the Lexus IS F. I'm not sure how much power the Beemer had when I was testing it, but would have been somewhere between 403 and 414 hp. The Camaro had 418 as I drove it, but it also weighs roughly 200 pounds more. The fact that I beat the M3's time by an entire second seems to indicate that perhaps Chevy's onto something with their "the new Camaro is not a muscle car" claim.
On the other hand, understeer becomes much more of an issue in the Chevy, Brembo brakes or not, and there were a few times (while dealing with this car's higher speed) that I used a few Mustang braking-points, only to find the SS pushing so deep into some turns, I wondered if my wireless controller was perhaps losing battery power! Even when not understeering, this car's got a heavier, plodding feel at this track. I'm not saying the Mustang's any better, but once the SS commits to a line, it's often too big and heavy to manipulate this line any further (not with hard sport tires, anyway). Lift-off oversteer is not quite as useful as it was at HSR2, but we can still rely on it on occasion. So that's entry and mid-turn, now let's talk about exit.
Generally speaking, anything more than half-throttle at this particular track can be dangerous, even if we're in 3rd gear. We're getting over 400 foot-pounds at about 4,500, after all, so that's a lot of torque being thrown down. When the '10 SS starts getting half-sideways out of every turn, even if the rear tires aren't smoking, it starts feeling a lot more like that original generation of muscle, for sure. This car feels completely unrefined at such moments, and THIS is what I love!
On the other hand, some points are getting docked during whatever traction category the judges come up with. We can't play with the throttle quite as much as we can in the weaker Mustang GT. There are times (while driving the Camaro) when I wanted to give just a little more gas, the turn's mostly over, the ghost car is behind me but I want it even further behind me. So I try a little more gas. In the Mustang, this extra bit of throttle wouldn't be an issue; it might add up to a small, easily-correctable wiggle, perhaps. But since the Camaro's still steering just a smidge, the rear-end starts sliding out a bit...and there goes that half-second I was trying to erase.
Throttling while driving over any sort of curbing is also a no-no. Giving a little too much gas while a rear wheel is getting lifted by one of these will not only guarantee lost traction and a higher lap time, it might kill this car's line, and there might even be a few moments of necessary damage-control, as the muscle in this car starts to have its say when we just want it to do its job.
During wet driving at Eiger Nordwand, the Camaro suffered even more. Again, I used a 50% Weather at Race Start setting, with Weather Changeability maxed at 10. Surface Water at Race Start was 50%, and Grip Reduction on Wet Track was set at "Real". Results were felt instantly, as the clock started and the car's rear wheels started over-spinning as the tach made its way past 4 grand. This happened in 2nd gear, which is not unusual, but it happened while going in a straight line! 400 foot-pounds, folks, that's what 400 foot-pounds feels like. I could also get the Mustang to slip 'n' slide in 2nd, of course, only difference is the Camaro could lose control while going in a straight line, while the Mustang required the driver be leaving a turn (and still steering) to make this happen. I
managed 1:21.546 in the Camaro here.
2008 Dodge Challenger SRT8
The warthog of the group did not show off its pounds right away, not as I drove some laps around High Speed Ring II, anyways. Only an occasional overheating tire during this track's sole hairpin provided a clue.
We got 1:20.947 with aids on (2 laps of driving), and 1:17.697 with them off (4 laps). The SRT8's got genuine Brembo calipers helping to stop this rolling buffalo from disaster, and they do help out as best they can. As we can see from the Specs section, this one stops from 100 mph in just 4.800 seconds, slightly more than the Camaro. Since the Challenger's got slightly more tire-width overall than the Camaro, we can probably blame the SRT8's heavier weight for its 0.067 extra braking time. But really, 4.800 seconds aint bad in a game full of 5+ cars. Let's also take into account the Challenger's 4,139 pounds.
My very first rumble through HSR's first banked turn resulted in 'me' not braking early enough. I'm used to Camaro and Mustang braking points by now, and this is going to need to change, apparently. As the Challenger's front-end struggled to create a workable line, I made a mental note to start earlier next time. From here on, it was noticeable how much extra pampering the Challenger needed to get around. Although not truly a 1st-era muscle car from the days of Nixon and 36 cent gas, the Challenger certainly gave it a good try! Multiple moments of throttle-taming and/or brake-taps, and multiple moments of understeer, "even though". Again, it probably comes down to weight, but the Dodge had the most trouble getting its act together while cornering, and we're not even at the tougher tracks yet!
So it seems we've got another challenger here, not a true champion?
Out of turns, the Challenger also provides the best show, in a good way and a bad way. With its nose-heavy 56/44 weight distribution (the Camaro's in-game distribution is 47/53), the Challenger would dive a bit into turns, but would also get the most wild with burnouts and back-end slides while leaving them, and this is despite the fact that this car is the only one with slightly-wider tires in the rear (comparing front to rear). This car is also the only one to show some slight tire wear up front. DURING LAP TWO!
Granted, none of this is the worst that's ever been seen during the course of automotive history, nor am I surprised by the Challenger's "dopey in, floppy out" mannerisms. Unlike the earliest of muscle, the Challenger can hold a line rather reliably, and it can handle in a more neutral fashion. It also offers a bit of helpful throttlesteer out of certain turns, as well. But all of this assumes we've slowed down, and allowed this 4,100-pound machine plenty of "me" time. Me me me, think of me, Mr. Driver! We can't just toss this one in, like we could while hot-lapping the Mustang and Camaro, and we can't just push it out, either, not in the same somewhat careless manner. Such a shame this one is so damn heavy.
If the Moparmobile is suffering at HSR, a track where the other two barely broke a sweat (unless I FORCED them to do so) I can't imagine what's going to happen at GP/F. Probably the same thing that would happen if you tried to stuff a Big Mac into a mail slot.
At this track I managed 2:27.845 with the aids on, and 2:25.272 without them. Comparing to the Camaro, the Challenger's difference was 2.573 (Dodge) versus 2.950 (Chevy), meaning that Chevy's desire that the Camaro be comparable to a Beemer seems to be a little more in-tune with reality than the Dodge's goal of simply being the Baron of Badass Burnouts.
While driving at High Speed Ring, I was fearing for my life, and I feared GP/F would be even worse; but oddly the Challenger felt a lot more docile here in Germany than it did at wherever High Speed Ring is supposed to be. It's got a habit of pushing at HSR's higher-speed banked turns, but on flat land (and at lower speeds) the SRT8 was oddly more confident. Perhaps it's the fact that most of this track can be taken at less than 100 miles per hour. Below 100, those Brembos seem to have lots more ability to do their job, and from here on, the heavy Dodge is now more accurate (if a bit dopey) with its ability to trail-brake and turn-in. Matter of fact, I noticed the Challenger actually required slightly less distance to slow into certain areas than the Camaro did. The Camaro needed to brake at exactly 150 meters into the first deadly hairpin for instance, but in the Challenger I needed less. Seems there's finally an advantage to being heavy, perhaps.
Into GP/F's turns, understeer was not totally gone, but it IS a bit more on the rare side. Not what I expected. Although the SRT8 plods heavily, it won't constantly falter out of its lines as I thought is would. Hairpins, esses, or higher-speed kinks can all be taken with a higher degree of confidence than expected. I'm not saying this car's now comparable to a BMW the way Chevy claimed it to be, but ... you get the point.
The key thing is to make sure you choose a decent line in the first place. Heaven help you if you don't, but if you do, this one mostly works with us now. Cornering options (especially tightening up a line) aren't as available at this track, but the same could be said for both the Mustang GT and Camaro SS, especially without any tuning.
Where it starts to fall apart is out of turns. I'll be straight-up here. The Challenger's probably going to win the Biggest Burnout portion of this comparison!, it's simply the best in this category, as it not only provides us some back-end monster-fun, it also feels the most agreeable while doing so. It's saying "hey, you want to have some fun? So do I!" ..but it does this while not just spinning-out in a messy teargas-style explosion.
But (ahem) while it's scoring these points, it's definitely losing some others! ... Throttlesteering, traction, and overall rear-end control? Especially at this track? It's easiest to lose it all in an SRT8. The Mustang (with its weak powerplant) shows some discretion. The Camaro? It's got the best lap times, and its back-heavy weight distribution keeps traction on our side. The Challenger? It's the one that wants to party, yet while its lap times lag behind the winner, they aren't so far behind the Camaro as to make it seemingly an automatic disqualification, especially for a 4,139 pound vehicle.
The final track is Eider Nordwand's short circuit. As I drove here, the Challenger's showboaty engine was rated 423 horsepower by this track's dynometer; just two shy of dealer-quoted. I had the car painted from reddish-orange to white, to keep up with the red, white, & blue theme of this review (have you noticed?).
Here, I didn't know what to expect, after the mixed (somewhat beneficial) results at Nürburgring. Would the Dodge do better or worse? With the driving aids on, the Dodge managed 1:25.531, and 1:23.711 with them off. This amounted to 3 laps in the latter case, with surface water at 41% at the end of this run. The Camaro did its 1:21.xxx under similar circumstances, and one of the reasons it did so much better was not just due to its lighter weight, its manual transmission also allowed me to choose 2nd gear in and out of this track's four super-tight Slinky-styled hairpins. The Challenger's automatic trans put us in 1st gear every time, resulting in very touchy (not to mention slurpy) rumbles out these areas. There was also a slight bit of understeer which kept showing up in this car, but only during three of Eiger's higher-speed areas.
BIGGEST BURNOUT
Oh my, how could I forget the one feature of this comparo that'll set it apart from the rest!
All three cars were driven about an eighth of a mile from the starting point that the game puts us at on Daytona's Superspeedway. There is a clear area where NASCAR autos are supposed to enter, but I used this section of pavement for a ... different purpose. All three had hard sports in place, and were then donunted around in circles. Why would a respectable journalist such as myself want to participate in such an endeavor? To get the biggest burnout, of course! See, the thing is during GT4's heyday, it was impossible to play around in such a way, so let's have some fun.
The Camaro SS put on the worst show. For some reason, I could only get about three-quarters of a turn in this one before it just. Shut. Down. The rear wheels would start to smoke up a storm, but oddly (and all-a-sudden) everything would just STOP. The Camaro could not (for whatever ungodly reason) withstand donut after donut, as the other two could. And this is while the car was in 1st gear, too. I made sure to check whether or not I had shifted up to 2nd. I had not.
I figured the Mustang would be the worst of the three, after all it's got the least power, and seems to have a rear-end partially-coded from GT4. But (as we can see in the pictures below) the 'Stang could maintain a good burnout. Its rear tires spun mercilessly while the engine's limiter kept this automobile doing donut after donut.
Well if that wasn't enough smoke for ya, check out the winner! The Challenger's rear tires put so much pneumatic material into the air, nearby spectators up in Daytona's bleachers threatened to call the local Fire Department. Check out that picture below, in which the Dodge chowed out so much smoke, it's as if Cheech and Chong met up with Spicoli from Fast Times at Ridgemont High, while Snoop Dogg and Ludakris provided the 'refreshments'.
Well, all three cars deserve a round of applause. They are American, but have not kept some typical American car traditions, that's for sure. Except, of course, when it comes to smoky nonsense.
-------------- THE RACES --------------
Now the second-to-final section: Racing. Everybody ready for some racing? I am, and so are the Big Three.
In this case, all three of these monsters were raced in GT5's Supercar Festival, since this is the first race in GT5 in which these could all fairly compete without under or overkill. The goal was not to see if they could win (and then allot points based on this) it was to see what each vehicle would need to compete. How extensive would tuning options, weight reductions, and engine stages need to be to get each of these up-and-running? Would each of these even be able to compete? Or were any of them simply un-tuneably lost causes? Let's remember that this Festival of races features plenty of the world's best, fastest, and rarest sports cars, some of which are so expensive, we could buy 10 Camaros (maybe more) for the price we pay for one of these exotics.
In all cases, I started High Speed Ring II without much tuning at all. No limited-slip differential, stock transmissions, stock drivetrain parts, and stock suspensions. Tires were soft sports, and I had the Brake Balancer set at 0/0 with no driving aids (other than ABS set at 1). Depending how the car did at this track, I would then modify it further, and see how the final results for the next race would be. Daytona Superspeedway only demanded gearbox tuning in some cases, and it was once we got to Germany's GP/F track that the real tuning began.
'07 Ford Mustang GT V8 Premium
Since this is the least powerful of the three, the question arose: would the Mustang even be able to do the Supercar Festival? According to my guide (the way it's currently set up) a 3,592 pound car is too heavy for this race's Tuned Car class, which has a max of 3,500. And since the Mustang is quite the weakling, I decided to go ahead and lighten it all the way to Stage 2, while also removing the car's stock glass cabin, and adding a carbon-fiber hood. All of this got the 'Stang down to 3,055 pounds. The current cutoff for this class is 3,000, and I don't have time to create a lower class for this competition.
So at 3,055 pounds, the Mustang would need....
High Speed Ring II: 508 hp
Daytona S. Spdway: 566 hp
Nürburgring GP/F: 515 hp
Unlike the others, this Ford will need some major engine stages to compete, maybe even a supercharger. Two engine stages (plus the supercharger) were needed at Daytona, but at the other two tracks the supercharger was nixed. Any other parts (intake, exhaust, etc.) could vary, as we zeroed-in on whatever horses were required.
So the Mustang initially looked like this at HSR:
Weight Reduction: Stage 2, window weight redux, & carbon hood
Aerodynamics: front spoiler + rear wing
Engine: standard ECU, Stage 2 tuning, but no power limiting. Sports intake, racing air filter, sports exhaust manifold + semi-racing exhaust. Catalytic converter removed. 508 hp @ 6,400 rpm + 497 foot-pounds @ 5,000.
Track: High Speed Ring II
Fastest Lap: 1:12.688
Final Placing: 3rd
The Mustang's main fault here was constant front-end pushing. As soon as the GT's in a curve (banked or not), the front-end would hang on for dear life! It kept a solid line, but any throttle mid-turn (sometimes late-turn) had to be carefully (delicately) applied. Otherwise, there would be some understeer. Not the sliding sort of understeer we'll see in a 1st-era muscle car, but just enough push to require a brake-tap or a throttle-release to correct. The kind of push we used to see all the time in Gran Turismo 4.
The reason this is such a downer: oftentimes the Mustang feels as if it could give a better effort here. Out of turns (for instance) this car feels absolutely solid, its rear-end providing 0% tire-spin. If we could get the front-end behaving, chances are we'd now be able to use the rear to get some useful throttlesteer happening. Couldn't do this at all with the stock under-parts, though.
Other downers? An inability to trail-brake, an inability to use any sort of lift-off oversteer to help tighten a line, and also gearing which felt too tall out of this track's three slowest areas.
So the overall solution seemed to be a full-custom suspension (a Sports would not be able to cure this sort of pushing), full-custom gearing (both close-trannies are too short), and brake balancing. In this case, a limited-slip would not be needed. The Mustang was closing-in on the leading Lexus LFA and Tommykaira ZZII towards the end of the first race, so all that seemed to be needed was better entry and deep-corner handling, and also gearing which felt more appropriate, so this one could get some better exit speed.
Track: High Speed Ring II (Race 2)
Fastest Lap: 1:11.568
Final Placing: 2nd
Although I'm not a master tuner, I did manage to get this car stopping sooner, trail-braking a little bit (especially into wider turns) better, and with an appropriately-geared 6 speed. With all these elements, the Mustang could now tackle exit speed with better success. Towards the end of Race 2, a RUF managed to sneak around my car (which got a lead in Lap 3/Turn 3) passing it just as both machines past the finish line, but otherwise I'm pleased by my tuning efforts. Next track/race.
At Daytona, the Mustang managed the following:
Track: Daytona Superspeedway
Fastest Lap: 45.925
Final Place: 1st
Top Speed: 208 mph (during race 2)
Here the 'Stang was punted a bit as it ran a very close race alongside a McLaren F1, RUF BTR, Ferrari Enzo, and a couple others. There were no other issues expected with the car, and none showed up. One unexpected issue, though: I forgot to swap the full-custom tranny for the stock one during the first race. Actually, I could have swapped this piece, or merely set its gears taller. But I forgot to do either. Because of this, there was one moment (while drafting another car) when the engine met its limiter. With the car's stock 5-speed (which has a set ceiling of 228 mph) this engine-limit would not have been met, and I confirmed by doing a second race (which I also won) with the Tremec gears installed. With my tuning, the gears were set with 205 mph as a max. The Mustang could safely reach 205 with its stock gears in place, even though the tach needle looked as if it was getting too deep into redline.
At Nürburgring GP/F, I decided I'd better tune this car more extensively before racing. Tune it, and also drive it in practice mode. Surprisingly, it still did not require a limited-slip, but I tuned everything else to some extent, mostly to minimize that front-end pushing into and during turns. Plus, it's just a good idea to tune and practice at this difficult track. Also, I pretended that my crew chief finally located a manual close-ratio transmission (instead of the automatics which had previously been used). Now I could choose gears more effectively, especially out of turns. This sounds great, only problem is that damn RPM limiter. Now that I can shift my own gears, I gotta actually consider when the engine's gonna meet its limit! 2nd gear could wind up being too touchy at times while exiting, but I discovered the Mustang's torque could help it launch in 3rd instead. The problem with 3rd gear, however, is there are times when this choice becomes awkward. We'll see why in a few moments.
Mad Finn's Tuning Shop (my #1 place to steal tunes from) does not currently have a late-model Mustang tune, and I didn't have time to look around, so I was limited to my own devices here. With a lot more + toe up front (+.25), and +.05 in the rear, the front-end now turned-in with lots more efficiency. It turned-in so well, it's possible a limited-slip COULD have been used to take advantage of any rear-end throttle-sliding which might show up, but it turns out I was able to control this horse well enough without LSD. There was still some push if throttle was applied, 2nd gear was also touchy (due to the close-ratio 5-speed now installed), but otherwise the car now felt great.
Track: Nürburgring GP/F
Fastest Lap: 2:14.144
Final Place: 3rd
Once at the races, it became obvious that perhaps more tuning (gearbox tuning, and also some aftermarket drivetrain parts) might be needed. The GT rose quickly from 7th to 3rd place during the first 5 turns, but struggled to catch up to the leading RUF BTR and Nissan GT-R SpecV. But it was during those first 5 turns of Lap 1 that I got to see my tuning efforts really shine! The Mustang now offered some options, even in the tightest of hairpins I found I could tighten (sometimes safely loosen) up the steering, and sneak by some other car. The rear could also be kicked about with extra throttle-punches here and there, and this also helped. Actually, at such moments, since the Mustang's rear would now be skewing and slipping just a tad, this car's options aren't limited to just its front-end.
Track: Nürburgring GP/F (Race 2)
Fastest Lap: 2:11.983
Final Place: 1st
With a full-custom transmission (and an emphasis on that crucial area from 2nd to 3rd gear), softly-set limited-slip device, and a better clutch, lighter flywheel, and carbon shaft in place, the Mustang went from being a losing pony to a winning stallion. Race 2 featured an ancient 1976 Ferrari 512BB on Pole (a Group 2 auto), an Aston Martin Vanquish on 2nd place, a Cadillac Cien on 3rd, and a couple Group 1 cars ('92 Jaguar XJ220 and '00 Pagani Zonda C12) on 4th and 5th.
A couple issues were solved with my new tuning, but a couple more were introduced. The rear-end's traction and exit-speed became even more reliable, as a taller 2nd gear could now be used with more effectiveness. There were also a few times the Mustang's throttle could be shoved a little too forcefully while turning, causing a slight amount of slipping from the rear. Not only was this fun, it could be used as a tool to get unorthodox angles out of certain turns. The Mustang may be somewhat flimsy at this track (especially while driving really hard) but it offers more overall flexibility than the Camaro and the Dodge. Unfortunately, the limited-slip's improved traction out of turns became a curse (sometimes) into and out of them, as a bit of extra pushing on-entry became more evident while braking (see the sliding/smoking pic above the Handling chapter), and the same was occasionally true while leaving certain turns, as throttle was re-introduced. To solve the entry issue, the car HAD to be placed in 2nd gear (sometimes 1st) to slow things, and to get it to simply turn. I sometimes had to leave it in 2nd while exiting certain hairpins, even though with the close-ratio gearbox 3rd would be needed. A final issue was the engine's stupid RPM limiter. Sorry to use all-caps again, but I HATE that damn thing. One needs to grab as much power as possible, but since peak HP is so close to the limiter, sadly I wound up meeting this limit so many times, the race might have been lost if it weren't for a few surprises.
Overall I feel good about my suspension and transmission tuning, but am not sure if the limited-slip really helped, even though I set it rather weak. The car had more flexibility (matched with less pushing and understeer) without it, and it was the understeer that I was especially trying to target in the first place. The 'Stang may have been difficult in some ways without LSD, but I personally felt it may have been slightly easier to drive in this initial stage of tuning.
Fortunately, the 'Stang did not lose the race. Most of the field up front was history by Lap 1/Turn 6. Both Group 1 cars (the Pagani and Jag) wound up bottle-necking behind the Aston, and I was able to gallop around this trio in and out of GP/F's earliest turns. The two leading cars (the Ferrari and the Caddy) became tougher to catch, as the Mustang needed to corner very hard at this track, and it doesn't really like this sort of driving. Long-wheelbase cars are never as flexible at a track like this one, compared to those with shorter wheelbases. The poor Mustang displayed too many scrambly moments; it would occasionally understeer VERY hard if a braking zone was missed by a hair. Things did not look good for Team Mustang! Still, the Cien lost its 2nd place status during Lap 2, as I out-braked it into the Dunlop Hairpin.
The Prancing Horse kept its lead, and might have won the race. I would get a few car-lengths behind this Ferrari during slower turns, but its high-speed cornering in areas like the Schumacher curves would give it a very strong lead every time, while the Mustang needed to slow a bit into such areas. Had the 512BB not made a fatal mistake during Lap 3 into the Vedool chicane, it would have taken the checkered flag, but for some reason its driver seemed to get confused, and then slowed waaay down to 30 mph (42 was where it should have been), downshifting from 3rd to 2nd to 1st! The result? One horse taking another on the track.
2010 Chevrolet Camaro SS
I suspected the Camaro would have the least issues. Again, I entered this machine at the first Supercar race at High Speed Ring with no under-tuning. Brake balancer set to 0/0, stock suspension, transmission, and drivetrain. Only the ABS was changed (set at 1 instead of 5), and soft sport tires were shod.
At 3,868 pounds, the Camaro is too heavy for my GT5 Racing Guideline the way it's currently set up. The Camaro is 368 pounds overweight; so off to the Tuning Shop we go! Again, all the glass was replaced, and the stock aluminum hood was swapped for a carbon-fiber one. I opted for two stages of weight removal, which brought it down to 3,138 pounds. Stage 3 (2,905 lbs.) and a full racing kit are available, but this would have reduced the Camaro below the current minimum of 3,000.
So at 3,138, the Camaro SS would need...
High Speed Ring II: 511 hp
Daytona S. Spdway: 567 hp
Nürburgring GP/ F: 526 hp
All of this can be achieved without any extra engine stages, only at Daytona would a supercharger be needed. I was torn about using the Camaro's extra aerodynamic options, since the Mustang and Challenger can only get a front spoiler and a rear wing. Since GT Auto allows the Chevy to have extra parts (side spoilers and a rear baffle kit) I decided that this could somehow provide too much of an advantage to the Camaro. So to even the playing field, these extra parts were not installed before racing. Anyways, here are the initial results at High Speed Ring II.
Track: High Speed Ring II
Fastest Lap: 1:10.436
Final Place: 1st
As we can see, the Camaro creamed the Mustang with its Fastest Lap time, and it's not just because of this car's 3 extra horsepower. The Chevy was simply much easier to drive. Despite its extra weight, it tackled HSR's turns (banked and non-banked) with a pleasing lack of understeer. A bit of a slight push would show up on occasion, but it was not the "one size fits all" sort of pushing that the Mustang GT displayed so proudly. In the Camaro, I was also able to tighten up this car's line mid or late-corner if the situation called for this.
Once again, the rear of this car (like the Mustang) did not give any issues whatsoever, not at this track, anyways. And since the front-end provided some helpful cornering options, there were times when the Camaro's rear could lend a hand with throttlesteer out of turns.
During the race, the SS simply blazed a trail for others to follow. I had a look at the front competition, and then I realized why it won so easily. We had a Nissan 390GT1, Callaway Corvette C12, and Ferrari 599 starting on Pole, 2nd, and 3rd. All of these are fast, but they are Group 2 vehicles. I want a tougher race, so I tried again.
During Race 2, the Camaro was now up against a RUF CTR Yellow Bird on Pole and a RUF BTR in 4th place. Another Callaway sat on 2nd, and a '99 Dodge Viper GTS in 3rd. Again, the Camaro floored the competition. Since the Supercar Festival offers two different sets of ratios (Tuned Car and Sports Car), it's obvious the SS needs to be set into the latter class. Doing so would chew some of this car's horsepower away.
Track: High Speed Ring (Race 2)
Fastest Lap: 1:10.472
Final Place: 1st
During this race, all at the front lines (the Viper, the Callaway, the RUF BTR) simply fell to the wayside. By Lap 1/Turn 3, the Camaro had simply pwned them all. It wasn't until Lap 2 that the Chevy passed the leading Yellow Bird, and this happened as it drafted this RUF during the final banked turn. Keep in mind that all of this is happening while this car's underparts are mostly stock. The Mustang is capable at this track, and under such conditions, but we gotta work with it to make things happen. The Camaro (on the other hand) is simply race-worthy straight out of the box. We don't have to work with it, it is more likely to work with us.
Bottom line? the Chevrolet Camaro SS is probably more suited for my Racing Guide's Sports Car Class--it's too good for the Tuned Class.
Track: Daytona Superspeedway
Fastest Lap: 46.193
Final Place: 3rd
Top Speed: 204 mph
The supercharger was now unpacked from its box, and several parts were replaced or added (power limited a little) to get the required 567 horses. There were some unexpected issues here at Daytona, though: the front-end (which was so helpful at HSR2) was now scrubbing off too much speed as small steering corrections were made on Daytona's banks. Let's note that the Mustang, as problematic as it was at HSR2, did not have any such issues at Daytona. The Mustang might lose a bit of speed on these banks, but this wasn't as noticeable as it was in the Camaro. Also, the Camaro's mighty 5th gear finally met its match, and this means 6th was finally needed while drafting. But a problem: in 6th gear, the engine now dropped revs (and therefore speed) drastically. Even while drafting, the SS could not eke past 200 miles-per-hour because of its super-tall 6th gear. So a full-custom gearbox will be needed for this one, at this particular track.
During the race, the SS was pushed upon the wall at one point by a rambunctious RUF. This caused the Chevy to fall to 9th place, and I was able to bring it up to 3rd by the end of Lap 3. Chances are it might have won if the wall-rubbing incident had not happened, but this car's habit of scrubbing banked speed, not to mention its odd high-speed gearing scenario, might have also kept it from ever leading the race.
Track: Nürburgring GP/F
Fastest Lap: 2:08.474
Final Place: 2nd
At this track, I decided to really see how good Chevy's attempt at a BMW-killer might be, and did the first race without any additional suspension, drivetrain, brake, or aerodynamics tuning. The stock gearbox was swapped for a close-ratio 6-speed. That's it. Not only did I feel this car might be able to take the enemies here in such a state, I also did this to save time. I've been writing this damn review for over a month folks; which has to be a record! I love writing, but GT6 is supposed to be out soon, and although I am not getting a PS4 (or GT6) anytime soon, I also gotta get this 3-way comparo done.
I noticed during my initial drive around GP/F before the race that the Chevy is still maintaining its front-end grabbyness into and during those turns, tight or wide. Comparing to the tuned Mustang, the un-tuned Camaro is not quite as accurate as the 'Stang (with my tuning), but it's still got a lot of tricks under its sleeves. The Camaro's 2nd gear, for instance, was not nearly as touchy as the Mustang's, and this meant I could possibly use 2nd out of many hairpins and loops. In the Mustang, let's remember I was forced to use 3rd a lot before I installed full-custom parts.
Keeping all this in mind, I went ahead and tried a race, which included a couple of what I call "Group 1" automobiles: A Nissan R390 GT1 (Grp. 2) started on Pole, and this was followed by a Lotus Esprit V8 (Grp. 1) on 2nd place. Though the R390 is technically a lesser class, it will probably do well, since it's a super-light mid-engine racing-derived car starting on Pole. There was an Aston Martin on 3rd (which is nothing but a placeholder in this case), and 4th, 5th, and 6th were all Group 2 cars: a Ferrari 599, and a couple of AMG SLR McLarens. As we can see from the results above, the R390 simply took off at the starting bell, and there was no catching it. But the SS did manage to get by almost everybody else during the first lap. The second-place Lotus fell during Lap 2, Turn 7 (the track's third hairpin).
During this race, I did finally notice some issues with the Chevy. Its springs are stock, which means they were set at 5.1 and 4.5 front to rear, and because of this the SS had a few minor problems with side-to-side body rolling. In comparison, the Mustang (with its full-custom suspension) had 8.5 up front, and (I think) 7.0 in the rear. During some really hard & tight corners, the Camaro was difficult to point and aim because of its softer coils. I also noticed that without a brake-balance device activated, the Camaro had a few brake distances which were longer than seen in my tuned Mustang. During Turn 1, for instance, I used the Mustang's starting point of 150 M, only to find the Camaro struggling to turn-in once deep into that first hairpin.
And finally, the rear-end did in fact get squirrely a little too easily a couple of times, despite the better traction and gearing this car presents. So when I did Race 2, the bottom-line tuning included a firmer suspension (a Height-adjustable Sport suspension was used, I felt no need to alter toe or drastically alter spring rates, dampers, and sway bars), a limited-slip device, and the brake balancer. I decided to throw in a single-plate clutch, sports flywheel, and carbon driveshaft, as well.
Overall, I felt the Camaro SS was outclassing this event (as it did at High Speed Ring II). Its Fastest Lap time of 2:08 simply swallowed the Mustang's 2:14, and we can't blame a 6-second gap on 11 extra horses! I used the "Tuned Car" set of ratios for the Camaro during this first race, and I felt that if this had been a 5-lapper, the leading Nissan would have been caught. So for Race 2, I used the "Sports Car" Class's ratios, and wound up with 493 horsepower instead of 526.
Track: Nürburgring GP/F (Race 2)
Fastest Lap: 2:10.249
Final Place: 1st
I made sure to start a Group 2 auto (a 2009 Lamborghini Gallardo) on Pole this time, with a Group 1 car ('87 RUF CTR Yellow Bird) on 3rd place. I predicted that the Group 3 TVR Speed 12 (starting in 2nd place) would be quick down a couple straight areas, and might therefore possibly hold up the Yellow Bird from dominating too early. But the Yellow Bird would eventually beat the Speed 12. And all of this happened, too. There was also a late-model Corvette and a Pagani up in front of my Chevy, but these (as I predicted) bottle-necked early in the race, and were easy to slip by.
There was a moment of luck here, as the Yellow Bird took Turn 9 (the latter part of the Schumacher S-turn) too wide, and wound up with its outer tires stepping into the kitty litter! As it struggled to regain speed, the Camaro easily passed this mock-Porsche. But the 'mock Porsche' was also not to be discounted, as it followed my SS back onto the straight, passing it just as the braking zone into Turn 1 began. Good thing my car now had a brake balancer! Now I could start braking at 150 M, skooling the RUF once again. I noticed that this car's previous rear-end issues were now just about zilched, as full-throttle could be applied out of several key areas, 2nd gear or 3rd. The Gallardo's dominance died during Lap 2, going into the Dunlop Curve (hairpin #2). Although the Pagani managed to pass the Yellow Bird, and for awhile crowded the Camaro's mirrors with its silvery, ghostly shape, it could not continue its efforts, and my Camaro won. And who knows, if the Yellow Bird had not taken its kitty litter spill, perhaps it might have provided more of a challenge.
2008 Dodge Challenger SRT8
The Challenger is fast, and it's also a head-turner, but it's got some serious faults, which have already been mentioned several times. At the top of the list? Weight. If the SRT8 is a 'pro-wrestler' on some sort of a downslide, let's get him back into the gym, let's see him lose some weight.
The Dodge required the following: glass treatment package, carbon fiber hood, and all three weight reduction stages, which resulted in a car which weighed just over a thousand pounds lighter! How about that? At 3,112 pounds, the Challenger is right where an early '70s Challenger would have been, if it had been equipped with a small block V8. Like the Camaro, the Challenger did not require any major engine stages, and I got a front spoiler + rear wing from GT Auto. So 3,112 pounds. With such poundage, we're looking at the following HP requirements.
High Speed Ring II: 510 hp
Daytona S.Spdway: 567 hp
Nürburgring GP/F: 523 hp
I followed the same formula at High Speed Ring that I did for the previous two: stock gearing (in this case, the SRT8's 5-speed automatic), soft tires, but stock underparts. No suspension or drivetrain tuning, ABS set at 1, the Brake Balancer at 0/0, and no driving aids. An aftermarket ECU was used, along with a better intake, and exhaust manifold. I also required a sports air filter, removed the catalytic converter, and added a semi-racing exhaust. All of this brought things up to 512 hp @ 6,500 with 467 foot-pounds at 5,500, and a small dumbing-down with the throttle-limiter cut this back to the required 510.
Track: High Speed Ring II
Fastest Lap: 1:11.632
Final Place: 1st
As expected, the dopey Challenger now felt a lot more spry with its weight removed. I kinda wish I had done a race with the fully-weighted car for better comparison, actually. Anyways, we started with a Ferrari California on Pole, an Aston Martin DB9 on 2nd, a Cizetta V16T (that 'supercar' which sucked so bad in GT4) on 3rd, and a RUF RGT on 4th. A Corvette Z06 from the C5 generation + a C4 Corvette started directly in front of the Dodge. So we've got three cars from the Festival's Group 2 classification, and a single group 1: the RUF. I figured the Challenger would slaughter this field with minimally negative consequences. So I wasn't entirely surprised to find the SRT8 in 1st place during the first lap. We passed the leading Ferrari after drafting on HSR's final bank.
Driving-wise, a bit of front-end push shows up first (just as it does in the others), but keep off the brakes or throttle, and now the front-end starts turning-in. It's not a violent turn-in, nor is it as reliable (as found in the Camaro SS), instead it's a bit subtle. But at least it is there. Give some throttle while still on a banked curve, and the rear of the car now starts helping sometimes with throttlesteering. It doesn't happen 100% of the time, and it usually takes a moment or two before this behavior shows up.
While exiting out of this track's two flat curves (Turns 3 and 4, the gentle S-curves) the rear can suddenly flare out if a little too much throttle is given. It's fun and frivolous, but also dangerous for those who aren't expecting it. Actually, the Challenger (so far) is the only car to really get loose out of these two turns, and with this amount of power. The Mustang seems to have some GT4 coding leftover from the '05 car (meaning its rear-end will be tamer than a pure GT5 car), and the Camaro's weight distribution falls slightly towards the rear, planting some better traction at all times. The Challenger is not horrendous with its exit-madness, but a limited-slip would be needed for anyone who wants absolutely zero rear-end issues at this track. This part would not be needed by the others. Anyways, I did a second race, so let's see what happened.
Track: High Speed Ring II (Race II)
Fastest Lap: 1:12.241
Final Place: 2nd
I feel the Challenger might be like the Camaro, in the sense that I could be using the wrong set of tuning ratios for the Dodge. Instead of the 'Tuned Car' ratios, I should go for 'Sports Car'. I didn't do this though; I opted to try a race with a Group 1 machine (the infamous '98 Nissan R390GT1) on Pole. A Lotus Esprit (another G1) started on second place, and there was a smattering of other top material starting on other placements. During this one, I managed to pass everybody but the Nissan and Lotus by Lap 1, Turn 5. The leaders were drafting each other down the straight (they literally swapped places each lap) so the Challenger now had some work cut out for it.
I noticed while pushing this car a bit harder now that the front-end actually is pushing a bit more than I'd like, sometimes with true understeer and a bit of slight front-end sliding (if brakes were not used early enough). Overall, this one offers more damage control than the Ford, but not as much as the Chevy. It becomes more obvious during a race where somebody must actually be caught, and this is something which I would definitely want to tune away. Notice the Camaro SS did not need any help at this track. The Dodge eventually passed the leaders during Lap 2, rocketing past the leading Esprit out of Turn 4. I thought perhaps that the Challenger might not get challenged any further, but a Volkswagen W12 Nardo Concept managed to catch up during Lap 3, passing it by mere fractions of a second as both cars zoomed by the finish line.
Track: Daytona Superspeedway
Fastest Lap: 46.481
Final Place: 1st
Top Speed: 214 mph
Now packed with a supercharger and a variety of other parts to make the required 567 horses. I kept this car's 5-speed auto in place, but put a stiffer Height-adjustable suspension underneath to limit the amount of 'sloshing' which might occur here before the crowds of Florida.
Let's notice a couple of interesting things, now that all three cars have been raced here. #1: the Mustang's got the Fastest Lap time. FINALLY it's the best at something speed-wise, eh? Another fact: the Dodge Challenger (with its gigantic body and stable Daimler-derived chassis) felt the most confident here at Superspeedway. Confident with the track's two banked turns, and also confident with traffic. There were a few moments when the competition rubbed against, slipped around, and even bump-drafted my car, and at such moments the Dodge merely shrugs. It's a virtual pro-wrestler after all, and one which has made a comeback from mediocrity. The tranny's top gear (pretty much useless while power is stock) now saw plenty of action. My car rocketed to 214 mph twice while drafting some others. Matter of fact, down the backstretch during the first lap, the Challenger got such a good draft as it skated into Turn 2 that it took most of Lap 2 for the others to catch and finally pass it again.
A RUF CTR Yellow Bird managed to debunk the Challenger's reign twice, but could not win the overall war. At various times, a '09 Corvette ZR1, Jaguar XJ220, Pagani Zonda C12 and a few others all vied for the challenge, but the Challenger took the glory. One final thing to mention: unlike the Camaro (which had a grippy front-end here that scrubbed speed if a little too much steering input was used) the Challenger's slight pushing (front and rear) made it easier to maintain speed. Small amounts of grip-loss from all 4 tires ironically kept the SRT8's speed from slipping, and this kept its lead strong. I was able just throw the Dodge into the curves without any braking (and perhaps only a momentary release of throttle). As long as there was nobody ahead, the Challenger could safely push a bit into these turns.
Of course, the Challenger had some suspension tuning before showing up here at Daytona, whereas the Camaro did not. But still, the Camaro's front-end was grabby (in a helpful way) at High Speed Ring, while the Challenger's was slower-reacting, and not grabby at all. We can safely rule out my tuning then, since it was performed to get this car's side-to-side swaying a bit more under control. I did not tune the Challenger to be less grippy on banked turns.
At the final track, now.
Track: Nürburgring GP/F
Fastest Lap: 1:11.088
Final Place: 3rd
The American may have felt most confident at an American oval track, but here in Germany .... ummm. This one's handling issues may have been tolerable at High Speed Ring, beneficial at Daytona, but here at the 'Ring's shorter track we're gonna need help. During practice runs, the Daytona-bred height-adjustable suspension was initially kept, and I found I only needed to tweak these parts a bit. Again, I swapped the stock 5-speed auto for closer gears (also a 5-speed), and pretended the crew had also installed a clutch & manual gearbox.
So to review, both the Camaro and the Challenger used a height-adjustable sport suspension at this track, while the Mustang only felt most able with full-custom parts. While practicing in the Challenger, it was noticed how front-end pushing (or downright understeer) seems to come and go. This car's front plows on occasion, other times it dives right in, and does what it's supposed to. Interesting. The rear (without a limited-slip) got a bit scuffely at times, meaning that it might lose its traction here and there, but overall I felt I had a chance with this one at the races, without LSD. There is some rear-slipping, but there's also a bit of unexpected flexibility in this long-wheelbase machine, and to preserve this (and avoid understeer) I did the first GP/F races with this car's stock limited-slip in place. Like the Mustang, I could occasionally kick the Challenger's rear around a bit, getting exit-angles out of this track's hairpins and chicanes which might wind up being more helpful than hurtful.
From Daytona there were 3.4 degrees of front camber matched with 1.5 in the rear. Kept the rear just as it was, but reduced the front to 2.9 degrees. The front coils were also reduced from max (8.8) down to 8.0, while the rear's 7.0 was also kept. The car's stock drivetrain was also enhanced with a stronger twin-plate clutch, titanium flywheel, and carbon driveshaft. Finally, braking action during practice laps felt good, but for the race I felt it should be even better. I was able to start slightly earlier than the Mustang's 150 meter braking point while practicing, so the brake balancing device was finally unpacked and installed.
The first race featured a Lamborghini Gallardo on Pole (Group 2), a TVR Speed 12 on 2nd (placeholder), a RUF CTR on 3rd (Group 1) and one other Group 1 auto on 5th place: a Pagani Zonda C12S with a 7.3 liter monster under its hood. In other words, this is the exact same lineup of cars that the Camaro SS just faced not long ago. The Camaro skooled these drivers so hard-core, it made them wonder if they'd be better off going back to Mario Kart, but I had some problems with the Challenger. Some of them amounted to driver error, others were definitely the car's fault.
My intuition proved correct on the limited-slip issue; in the sense that the car doesn't need one. It could possibly help with occasional rear-end tossabouts, but as things are this car's front-end barely pushes (unless I brake too late) and I aim to keep it this way. But there were some problems.
Driver error: the Yellow Bird dove right into the kitty litter once again during the Schumacher curves! This moment seems to be scripted. Unfortunately, the driver error wasn't from the sim-car, it was from ME: I didn't see this moment coming, and since I had been following the RUF closely, this means I had to slow the Dodge way down to avoid a rear bumper-slam. This cost a lot of time, of course, giving the Gallardo a 4-second lead. Dammit! This lead could be downsized with careful driving, but not entirely erased. There was also a couple moments when I braked too late as I got a bit too eager to kill the Leading Lambo, and though the SRT8 offers some damage control, we're not talking about the amount found in a BMW or a Lotus, here.
Car's fault: I was pleased with the way this one handled, with one exception: stepping off any sort of curbing, the throttle must instantly be tamed. The lack of an aftermarket limited-slip might have been the reason, but there was a moment (again during the Schumacher curves) that I avoided the sand, yet took an exit-angle which wound up including a rumble strip. As throttle was floored, the Challenger got a bit too sideways as its inside tire made contact once again with pavement. It happened so fast! This allowed the 3rd-place Yellow Bird to pass me once again. Double dammit! The Dodge out-accelerated the RUF out of Vedool/Lap 2, and the Pagani took a shot at killing the Dodge (and did so by the end of the front straight), but I managed to slip by the 'silver ghost' somewhere in those first super-tight turns. Finally, it looked as if the Challenger might at least keep its second-place status, but during Lap 3 (once again during the Vedool chicane), my car got a bit corked as it tried to turn-in. One of those giant Styrofoam blocks happened to be in the wrong place at the right time, the Dodge ran into this, and the silvery ghost Pagani Zonda stole 2nd place.
Track: Nürburgring GP/F (Race 2)
Fastest Lap: 1:12.084
Final Place: 2nd
This shall be the final race, and good lord this review is getting long!
This time, the exact same line-up of cars found at the first High Speed Ring race was here at GP/F. So this means the Ferrari California on Pole, Aston Martin DB9 on 2nd, Cizetta on 3rd, and so on. The RUF RGT starting in 4th place would probably become the one to worry about, assuming the California doesn't get too strong a lead due to another set of 'driver errors'. And this is how it turned out. The bulky Dodge wormed its way around everybody by Lap 1 except the leading Ferrari, which boasted a +1.750 lead as Lap 2 started, but this lead evaporated a little too quickly. By Turn 7 (the second hairpin) the Cali was done.
I decided to start the race over again, this time using the Sports Car set of ratios. So now we're talkin' 493 horses instead of 523. Under such conditions, the Dodge still caught the Prancing Horse a little too easily (this time before Lap 1 was even done) so I opted for another set of cars to race against. Please note all of this, judges--note that the 2008 Dodge Challenger SRT8 has gone from a sloshy giant to an overkill machine.
Finally, after shopping a couple more grids, we were faced with a batch which looked more threatening. : a Jaguar XJ220 on Pole, '09 Corvette ZR1 in 2nd (both of these are Group 1), and a couple more G1s (the Pagani Zonda C12S 7.3, and the Lotus Esprit) starting on 5th and 6th place. To celebrate, I allowed the Dodge's crew to raise power back to 523, expecting that this race would be more challenging.
Again, I might have won if it weren't for a couple crucial moments of driver error. The Challenger was in 3rd place easily just after leaving the Mercedes Arena (Turns 3 and 4). The Corvette lost its place going into hairpin #2, but all during this time, the Pagani was hot on the Dodge's tail. Good. THIS is what I was looking for.
By the end of Lap 1, it was looking as if the muscle car had a shot at the lead, as it closed in on the leading Jaguar. Unfortunately, I braked a bit off-kilter (or something) going into Turn 1. While this can be chalked up to driver error, the long-wheelbase CSRT8's damage control policy is so horrendous, all it took was this one moment, and the Jag was now many car-lengths ahead. In a better-handling car, this moment wouldn't have been so definitive. During the rest of Lap 2, the Pagani was all over the muscle's tail, which (fortunately) happens to be a rather wide tail. It couldn't make a pass, as I closed the door in its face several times.
Again, a few more moments of small mistakes (braking a hair too late, for instance) were matched with a couple moments when the Dodge got a little too tail-happy out of a turn almost killed the Dodge's performance. But finally, we got some good driving during Lap 3. The Dodge caught and then managed to out-brake the Jag going into Turn 7, and all during the Schumacher Curves, these two were side by side! But the Jaguar (with its superior high-speed handling) won this scuffle, getting firmly ahead of me. Dammit! That's when I did something really stupid, and tried going on the inside of the Jag into Turn 10. This resulted in a long bout of understeer, of course, since there's nowhere to go here but off-track. Fortunately, "off-track" here includes a lot of pavement. Not only did the Dodge not pass the XJ220, but the Zonda C12S now came up from behind, and easily stole 2nd place (since it was cornering as I should have, with a proper racing line).
The final showdown happened in and out of Vedool. The Pagani caught (and slightly nosed) the Jaguar going into this chicane's first kink. From behind, I managed to catch up to both of these (without punting) and wormed around both of them! The Dodge therefore was now in the lead! But unfortunately (once again), as it stepped off of Veedol's green curbing, I got a little too eager with the gas, and the poor Challenger jack-knifed a bit. The damage was done. The Pagani now took his intended position, while a RUF CTR Yellow Bird also sneaked by. We managed to skirt around the RUF going into the final curve, but the Pagani had too strong of a lead.
Overall Impressions
All three of these had their strengths and minuses at various tracks. The Mustang felt the most frollicky and fun, but needed the most help with its handling capabilities, even at High Speed Ring. Its gearing was appropriate at Daytona, but the other two tracks demanded we take a few moments to set some gear ratios.
The Camaro felt the most confident and capable during all sorts of corners, in the sense that full-custom tuning was rather optional in some cases. But this car (surprisingly) is the only one which would require suspension tuning at Daytona. Its stock gearbox is also the only one which actually hurt this car's efforts at this particular track.
The Dodge surprised me most of all, not with its handling, braking, gearing (etc.) but with its weight reductions. I did not expect I'd be able to get this car below 3,500 pounds, but we went far below this, nearly equaling the weight of the others. Its overall handling was a mixed bag, but not entirely awful (while stock). And once again, full tuning was not required for the suspension, and full gearbox tuning was never required for any of the three tracks.
So that's Modern Muscle for ya folks. Not the way it used to be, eh?
| | | | |
| --- | --- | --- | --- |
| Price, Interior, Exterior | 2007 Ford Mustang GT Premium V8 | | 2008 Dodge Challenger SRT8 |
| | | | |
| Exterior Design | 9 | 7 | 7 |
| Interior Design | 7 | 4 | |
| Iconicism | 9 | 8 | 8 |
| Weight | 7 | | 1 |
| Mirrors | 6 | 7 | 4 |
| Visibility | 7 | 6 | 5 |
| Instrumentation | 7 | | 9 |
| GT Auto Options | | | |
| Price, Int. / Ext. Final Score | | 56 | |
Points considered
Price: Which car is least expensive / best bargain? Also, which car's price is closest to real-life? The Camaro SS costs more than real-life versions, but is also the cheapest (best bargain) of the three. The Challenger is more expensive, but its price is closest to real-life. The Mustang's price is most expensive, and is way above real-life list prices its 2008 debut.
Exterior Design: An opinion vote. Although I like the external design of all three, the Mustang wins slightly. Both the Camaro and Challenger have that 'smashed-in' trunk going on.
Interior Design: The Camaro got lowest points here because its interior atmosphere is rather dull. It's also the only one of the three which hasn't got a handsome semi-retro thing going on. I like the Mustang's interior a lot more, but some of its features (like the temperature switchgear) is too 'familiar', and appears in other Ford models. The Challenger's got the most handsome interior. It's semi-retro and has some striking features I dig.
Iconicism: All three of these are retro to some degree, but also which is most familiar when it comes to muscle cars? All three of these got good marks, here.
Instrumentation: Challenger won here. It's gauges are not super-dazzling, they are super-functional, and handsome, too. Tach & speedo can easily be read at-a-glance, or eyed peripherally. The Mustang's score only lagged a bit due to its needles, which aren't as easy to see under certain lighting conditions. The Camaro's LED-lit gauges are too garish, and also difficult to read, and impossible to see peripherally.
| | | | |
| --- | --- | --- | --- |
| Engine, Transmission Drivetrain | | | 2008 Dodge Challenger SRT8 |
| | | | |
| Engine/Powerband Characteristics | | | |
| Aftermarket Options (Raw Power) | | | |
| | | | |
| | | | |
| | | | |
| | | | |
| Engine / Gearbox Final Score | | | |
Power: Quoted vs. Actual: This compares dealer-quoted power to the power we actually see once we're in the garage, mileage at 0.0. In all 3 cases, each car started somewhat below dealer-quoted. This score also includes the amount of mileage needed for each engine to break-in. The Mustang got to its dealer-quoted power (299 hp) the quickest, and therefore got the best score.
Engine/Powerband Characteristics: All three have torquey V8 engines, but the Mustang is far weaker than the others. This score also includes peaks (torque & horsepower), redline & RPM limit considerations. The Mustang's incredibly shallow area from peak HP to the limit hurt its score more than the fact that it's the weakest overall.
Aftermarket options for Raw Power: Simply put, which car makes the most power overall on the aftermarket, and also which one can have the most power added on the aftermarket. The Dodge makes the most overall, but the Mustang gets the most power added overall.
Driving Pleasure (Soul): Another opinion vote; in this case I'm alloting points for each engine's sound, mostly, but I also am considering the way each engine delivers its power (beyond pure numbers).
Gas Mileage: How much did each car's fuel meter (in the HUD) move after one lap around Test Track X? The first comparison I did (Lexus IS F versus BMW M3) included a lap around Nürburgring Nordschleife. Problem is, driving lines can vary from lap to lap, and can sometimes include spills off-track. Mistakes like this can potentially make a car's mileage worse. A full-speed lap (and mistake-free) lap around TTX seems to be the solution, here.
| | | | |
| --- | --- | --- | --- |
| | | | 2008 Dodge Challenger SRT8 |
| (Lack of) Understeer Issues | | | |
| Throttlesteer / Lift-off Capabilities | | | |
| | | | |
| | | | |
| | | | |
| | | | |
| Hot Laps! (Fastest Lap Times) | | | |
| | | | |
| | | | |
| | | | |
| | | | |
The first three considerations: Lack of Understeer, Power to Pavement, and Throttlesteer / Lift-off, are all tallied while the vehicles had stock power.
Power to Pavement: The consideration here? Which car can get the most power to pavement before some rear-wheel issues start driving up, especially while exiting turns. Wet Handling scores were also derived in stock-powered cars.
Tuning Needs were considered once the car had some power, and was actually racing in the Supercar Festival. Higher points means the car needed less tuning (suspension, gearbox, brakes, drivetrain, limited-slip, and weight reductions) to compete and possibly win. So therefore, this vote is not entirely about handling.
Hot Laps includes the best lap times while each car was tuned and racing. The physical lap times (the actual numbers) are superficial to this vote. Instead, what is considered here is (again) what did each car require to eke such a number? Though the Mustang got Fastest Lap at Daytona, for instance, it struggled at the other two tracks. It needed the most tuning, and was still difficult to drive (and there make lower lap times) even after all tuning was done.
BIGGEST BURNOUT: Again, this score was tallied while power was stock. All three (including the Mustang) had hard sport tires equipped. Three brand-new cars were bought and "tested" just off-track at Daytona Superspeedway
| | | | |
| --- | --- | --- | --- |
| | | | 2008 Dodge Challenger SRT8 |
| | | | 163 |
It's interesting how close the final results were. Although I expected the Camaro would win, I did not expect it would wind up barely eking its win. It's almost always the best at everything on those tracks (so far as speed goes) but when it comes to other categories, the other two cars have some areas and functions which I preferred.
Like the Luxury Car Comparo I did a few months ago, there were so many "What Ifs" during Modern Muscle. What if the Mustang's price wasn't so freakin' high, or the Challenger wasn't so heavy with poundage? What if Chevrolet decided to create the Camaro to be a purer muscle car (instead of a 'BMW killer')? Any one of these could easily have taken the lead from the others, or fallen far behind for some reason.
I promised a Chick Car Comparo last time, hopefully in the upcoming months I'll be able to keep this promise. ;-?