Year: 1964
Country: USA

Type: 2-door hardtop
Class: Muscle Car
Host: GT4 & GT5


Price: $52,600 (GT4), $51,239 (GT5)

Construction: Steel Body on Frame

Length: 203.0" // Width: 73.3" // Height: 53.5"
Wheelbase: 115.0"
Overhang: @ 7 feet 3 inches
Track: 58" front & rear
Ground Clearance: 6.3"

Weight: 3,130 pounds
Wgt. Dist: 56 / 44
Steering: recirculating ball (power assisted)
Turns, lock to lock: 4.00
Layout: front engine / rear Drive
Tires: 7.50 x 14
F. suspension: dual A-arms, coils, tube shox, anti-roll bar
R. suspension: live axle, coils, lwr. radial arms, shox
Brakes: Drums

**GT4 car was given oil change, boosting its power far beyond stock/quoted.
**GT5 car received oil change but not an Engine Rebuild, boosting its power slightly above dealer-quoted 325 hp.

Engine: 389 cubic-inch OHV V8
Construction: cast iron block
Aspiration: normal
Fuel System: three 2-barrel carburetors
Valves / Cyl: 2
Bore x Stroke: 4.06 x 3.75"
Compression: 10.75:1

```````````````````````````GT4 ````````````````````````````GT5`````
Final BHP: 343 @ 4,800 rpm 334 @ 4,700
Fnl Torque: 449 @ 3,200 rpm 437 @ 3,000

Credits per HP: $133.35 $153.41
Pounds per HP: 9.12 9.37
Hp per Liter:``` 53.9 52.4

GT4 Idle Speed: 1,000 // Redline: 5,500 // RPM Limit: 6,000

GT5 Idle Speed: 600 // Redline: 5,500 // RPM Limit: 6,000

Transmission: 4-speed manual
Differential: limited-slip

``````````````````````GT4```````````````````````````````GT5
0-60 mph: 5.766 seconds 5.884
0-100mph: 12.300 seconds 13.034

400 M: 14.410 @ 108 mph 14.045 @ 107 mph
1 Kilom: 25.840 @ 119 mph 25.940 @ 114

1/4 Mile: no test 14.094 @ 108
1 Mile: no test 37.952 @ 114

Test Track Lap: N/A

100-zero mph: 4.40 seconds 5.516

Top Gear RPM at 60 mph: 2,900 (GT4) 3,000 (GT5)


Top Speed at Redline:
1st: 42 mph
2nd: 56 mph
3rd: 72 mph
4th: 119.40 mph @ 6,000 rpm (GT4, RPM limited)
114.6x mph @ 6,000 rpm (GT5, RPM Limited)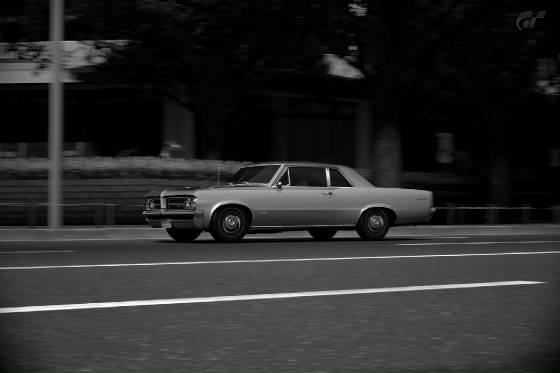 --------------EXTERIOR / HISTORY--------------
The Pontiac Tempest GTO. It seems odd that Chevrolet Camaros have been appearing in Gran Turismo from day one, yet Pontiac (which has always been the sportiest of GM's five divisions) just made its entrance to the world of Gran Turismo in 2004. Hmm. And after all this time, we still haven't got a Firebird to race! Instead, we get a couple other Pontiacs, including the 1964 Tempest GTO. Which is acceptable I guess.

If the GTO were found in GT2, there would no doubt be a healthy page or two of information to read as we find ourselves deciding whether to spend credits on one or not; but since this car is originally found in GT4 (where no info about a car's background is given) I get to be the one who educates. GT5 gives us some info, but it's only an entry-level description.

The GTO, unbeknownst to many casual racers, has quite a history. Most people probably think it's just an older clunkard that looks kinda like a pimpmobile, but have no truer idea why it is in GT. Here's why.

Unofficially, the GTO is often considered the first muscle car by many car buffs. But not everyone agrees on this. Some say the 1949 Oldsmobile 88 (which was the first car in America to get a high-performing, higher-compression V8) was the first. It's hard to say, since the words "muscle car" mean different things to different people. Anyways, here's the story on the GTO.

Sometime in 1957, the Automobile Manufacturer's Association (for whatever reason) decided it was time for American carmakers to stop racing, and stop sponsorship of racing events, as well. At the time, General Motors, Ford, Hudson/Nash, and Chrysler were all guilty as charged. Despite the ban, American carmakers apparently found ways to get their newest cars and engines into NASCAR events, Daytona stock-car races, and the like. They just weren't as blatant about sponsorship of racing as they had been previous to 1957.
Well in 1963, GM instituted their own ban on auto racing, and for a while, GM's ban was more effective than the AMA's. Despite this, not everyone at GM was happy with the ban. Pontiac in particular had long garnered a performance image, and was perhaps the most involved with stock car racing before 1963. Chevrolet had just started racing Corvettes to compete with Shelby's Cobras. Since Cobras were Ford-powered (and everyone knew it), Chevy really wanted to join the battle and officially beat Shelby/Ford. Matter of fact, just before the ban, several special Corvettes (known as Grand Sports) actually beat some Cobras in some grand prix of 1962. But none of this mattered. Now that the 1963 ban was in effect, it meant ALL THE FUN was now over.

But being stifled by GM ultimately didn't stop Pontiac's more aggressive teammates, and some of their former big engine/racing talent came up with the idea to create a street car which would be even more performance-oriented than anything they had released before to the public. Which was an effort to appease a growing market of young drivers who wanted speed. It was either that or start making wussmobiles, I suppose, and Buick, Oldsmobile, and Chevy already had the wussmobile market sewn up tight.

Anyways, so Pontiac had a plan to get around the ban. At the time, their Tempest model was a mid-size 2-door sedan based on GM's "A" platform. Since it was smaller than Pontiac's other top-selling models (the Bonneville and Catalina), a high employee at Pontiac came up with a great idea--let's make a stronger, faster Tempest than the one currently on the market! Whaddoya say?

The new car was named the "Tempest GTO". The letters "GTO" were probably chosen because they sounded racy, and Pontiac simply wanted to differentiate their upgraded car from regular Tempests; but officially, these letters were chosen to pay tribute towards Ferrari's 250 GTO. Perhaps this was Pontiac's subconscious (or conscious) way of thumbing their noses at the limiting draconians running the show at General Motors, since the Ferrari GTO was highly race-proven, and Pontiac could no longer officially race.

Part of GM's ban went thus: after 1963, all A-platform models would need to have an engine size smaller than 330 cubic inches, and only larger full-size GM cars could have a larger engine. To get around GM's new rules, Pontiac declared the GTO would be sold as a limited model. General Motors (for whatever reason) decided this was okay...as long as it STAYED a limited model.

So the first thing Pontiac did was to remove the regular Tempest's 326 cid V8, and replace it with the larger 389 from Pontiac's Grand Prix. The GTO package (which cost an amazing $300 extra, imagine that) also included quicker steering, a dual exhaust system, "premium" tires, and a choice of two engine horsepowers: one fed by a 4-barrel, and the other fed by three 2-barrel carbs. Nowadays, you can barely get a good sports muffler for $300. Pontiac aimed to produce and sell 5,000 GTOs in 1964, but instead, an amazing thing happened.

...Actually 32,450 amazing things...for they wound up selling 32,450 GTOs instead of their target 5,000! There were 18,422 hardtops, 7,384 sport coupes, and 6,644 convertibles, all told. Pontiac could now proudly boast waiting lists were being started at many dealerships, too. I'm sure execs at GM were stunned. They certainly took notice.
After 1964, the Tempest GTO got an immediate facelift, as plans were made to sell more of them in '65. Most noticably, the dual headlamps were placed one atop the other, rather than side-by-side. Eventually, the GTO was nicknamed "the Goat", and became its own model in its own right. The Tempest (non-GTO version) was also still produced, but kept its reputation as the sedate version.

But let's rewind for a second. Why do some consider the GTO to be the first muscle car, and not the Olds 88 or the big newcomer of 1964, the Ford Mustang? Well it's because some consider the definition of muscle-car to be thus (get ready to take notes, folks): a 2-door, 4-seat, mid-size vehicle with a carbureted V8 engine, rear-wheel drive, and live rear axle. Emphasis on performance, not luxury or economy.

Since the 88 is (by 1964 standards) a larger car than the GTO, some don't consider it as the first. And the Mustang was actually a 1964 and a 1/2 model that started production late in the year. Some don't consider the Mustang to be a muscle car at all...instead, they call it the first "pony car" since it's a 2+2, and was designed for circuit racing instead of pure 1/4-mile runs. Whatever. I'm just trying to illuminate why the GTO is in our game...why it is a rather important auto that changed everyone's approach to car-making in the '60s.

At 3,130 pounds, the GTO is amazingly light. No, it's not as light as a Mustang from this time, but the GTO is certainly lighter than some later 1960s automobiles that joined the muscle-car war. But this is really just yet another Polyphony Digital mistake. Real-life GTOs weighed somewhere above 3,400 pounds.

Anyways, this certainly is a sharp-looking car, even in our videogame. Sleek, monumental, and American. To me, it seems such modern Americans like the Chrysler 300 can only aspire to have the classy lines of such ancient models as the Tempest GTO. They don't make 'em like they used to, that's for sure.

....Not that this is necessarily always a good thing!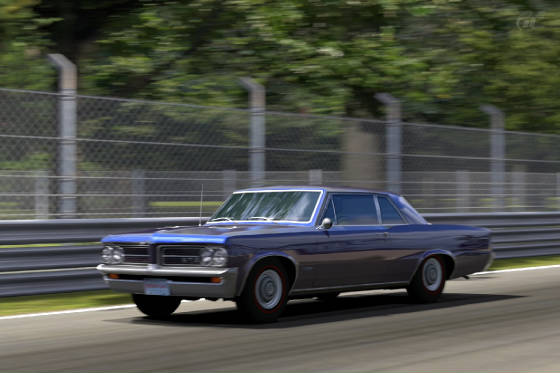 ----------------ENGINE / DRIVETRAIN--------------------

Like in many other "muscle" cars, the engine in this one happens to be the best part (performance-wise) of the entire car ...the only part we won't need to worry and fuss over so much as we prepare for racing. Power with a smile, guaranteed. The redline is somewhat low at just 5,500 rpms, yet peak power shows at 4,800. Therefore, this car can often be redlined safely during acceleration, and will not need to be shifted early.

As was said in the previous section, there were two horsepower options for the Tempest GTO in 1964: the car with the Carter single 4-barrel had 325 horsepower, while the one with three Rochester 2-barrel carbs had 348 horses. In addition, the 348 hp version also got heads borrowed from the 421 HO Grand Prix. Apparently (and thankfully) we get this stronger car in our game. Real-life figures looked like this:

325 hp: 0-60 mph in 7.5 seconds
``````````````1/4 Mile in 15.7 seconds at 92 mph

348 hp: 0-60 mph in 6.6 seconds
````````````1/4 Mile in 14.8 seconds at 95 mph

And what's interesting is that the car in our game does better than either of these tests, yet remains close enough to real-life to satisy. With N3 tires in GT4, I achieved:

0-60 mph in 6.333 seconds
``````400 M in 14.599 seconds at 107 mph.


Keep in mind that 400 meters is slightly shorter than a quarter-mile, but close enough to be comparable. I'm sure if I put some N1 or N2 tires, the GTO could achieve results even closer to real-life testing, but whatever. Close enough, eh? With S2 medium sport tires, it is possible to achieve acceleration runs comparable to some modern sport coupes...just look at the testing results up above in the SPEX section. Those were done with S2 tires in place instead of N3s.

On the aftermarket, lots of goodies are given. You might think Christmas has come early this year, as 3 NA tunes and a supercharger can be bought in GT4 or GT5. OH goody! Oh JOY! At best, we can get 629 BHP with 756 foot-pounds from a Stage 3 kit, and 569 horses and 841 tire-melting foot-pounds with the supercharger in GT4. After equipping one of my GTOs with this device, I coulda swore the smell of burnt rubber was emitting from my television.

GT5 offers even more than GT4, since the supercharger can be stacked on top of all that natural tuning. We've got the following at best...

Stage 2: 573 @ 5,300 hp // 635 @ 3,800 foot-lbs.

Stage 3: 620 @ 5,400 hp // 675 @ 3,900

Supercharger: 727 @ 5,400 // 845 @ 3,900

Despite these good figures (for a front-engine/rear-drive car using N tires), there are plenty of issues. For this car (like many others of its genre) often can't do much with its own power.

At first drive, many novices will delight in the GTO, which is quite the burnout king! Getting smoky rear tires, doing donuts, and maintaining long, loud, ludicrous burnouts for multiple seconds are what it seems this car was made for! And it's FUN! Yes, indeed. Problem is, such behavior won't get you far during actual races. *Sigh*

Once we've perhaps gotten over some juvenile attempts, and lots and lots of smoking fun, it's time to get serious about at least trying to get a good launch in this car ... especially at tracks like Fuji, Route 246, and Suzuka, where launching from a cold start is necessary during races. This is easier said than done. The GTO can achieve great acceleration launches, but you'll have to learn how to do them. This car starts with a minimum of 428 foot-pounds @ 3,200 rpms before oil change. Even at...let's say...a young 1,500 rpms, there is plenty of torque being produced! No doubt. Getting all this action to pavement without smoking (and therefore getting top acceleration) will take lots of practice. You can't ever just "jam" the accelerator in this car like you can with some later muscle-cars, even on Sports tires.

Another issue is one quite familiar: a short-throw gearbox. In real-life, the 1964 Tempest GTO was offered with several transmissions including 2 and 3-speed automatics, and a 3-speed manual. Thankfully, PD made sure the best tranny (a 4-speed) is here for us to use. Still, it's quite a short set of gears, and at 119.4 miles per hour in GT4 or 113 in GT5, the poor GTO has already met its top limit of revs.

But Pontiac is not soley to blame. The tradition of short gears started long before the GTO. At the time, Americans wanted to make sure they could get the best quarter-mile times possible, and beyond this, the 4-speed in this car has little use. But of course, there are other issues to talk about...



-------------CHASSIS / HANDLING-------------
It seems the muscle car's other tradition (poor handling) also started with this car. All the typical menaces muscle cars are prone to (Titanic-like understeer, difficult acceleration out of corners, sliding, fishtailing, spin-outs...and so on...) are all present in the GTO. In many ways, the GTO is actually the worst of the bunch, unfortunately.

In real-life, its suspension parts and steering were beefier than those found in a regular Tempest. The GTO version even featured red line nylon cord "low-profile" (guffaw) tires...top rubber to have on a car from a 1964 dealership, apparently, yet it's these tires that are mostly to blame. Even when shod with Sports tires in GT4, the GTO is extremely recalcitrant in corners.


GT4
Braking must be started very early, and in a straight line. Once you've got the car aimed into a turn, understeer (REAL understeer) dominates. At this point, a small tap on the gas will often guarantee a trip off-track, as understeer in this car is so great, you might as well bring some grass seed along cuz you'll surely be tearing up some green areas several times during your GTO career!

Mixing tires (putting softer tires up front) helps a bit, but once power gets anywhere north of Stage 2, you'll want to put those softer tires back on the rear; as getting this car to leave corners safely (without gobs of rear-end grotesqueness) is just as difficult as trying to enter corners without understeer.

A limited-slip differential helps massively, but won't solve any problems till it's carefully dialed in, and even then, this car's rear still tends to be difficult. The real-life GTO apparently had a limited-slip when stock, but it's just not strong enough.

...Difficult, yes. But for those who want something in GT4 that provides oversteer-on-demand (the ever-increasing hoarde of drifters, for instance) the GTO is actually one of the BEST. Uh...assuming you're a pro with drifting.
GT5
Everything true in GT4 is also true in GT5, which makes my writing assignment very short today.

Comfort tires...Sport tires, it won't matter. There is still lots of understeer if ten miles of braking time is not employed every time you approach a turn, and there's still lots of oversteer if the gas pedal is pounded just a millimeter too far. The main diff between GT4 and GT5 is drifting and controllability. GT5's GTO is quite a mess, don't get me wrong, but it offers a bit more overall control. It does behave itself somewhat if the driver starts to baby it in those turns, yet can be pulled out of some hairy situations if damage control is needed. This all depends, though, on how much "damage control" is needed and when.

Also, if you're like me and eschew ABS brakes on older models like these, braking also becomes a huge variable in GT5, as often one or two (or all four!) brakes CAN lock up, even if those Brake Controller settings are at 0/0. Braking must still be started early, just like in GT4.


But overall the Tempest GTO feels as though it has more options than it did previously, some of them good, some of them bad. Matter of fact, this car occasionally feels much more in its own element at circuit tracks, since it does offer more of a safety zone for driving in this game than in GT4. ....As long as you brake EARLY. Really early. If you're used to braking your Shelby Series 1 and Mitsubishi FTO at 100 meters, try 200 for this Pontiac. Otherwise, all the understeer of GT4 comes back to haunt. All of it.

An example. On a whim, I recently entered my drab, sandy-colored GTO into a recent Historic Seasonal Event. This is a series of six sprint races, three laps each, and it's packed with small 2-seater sports cars and 2+2 coupes like the Mazda Cosmo, '68 Nissan Fairlady, and '66 Alfa Romeo Spider. My car had a couple permanent engine mods, so I decided I'd better at least limit the 389's power with the restrictor plate. I brought it down from 425 to its stock rating of 326 hp.

Now before you cry "CHEATER", note this. I entered that first race at Laguna Seca, and was feeling that yes, this will be a cheat-fest. Turns out it really wasn't. I was using soft "comfort" tires just like the Ai, which means the GTO's handling was SO BAD, those little sprites and roadsters really gave the GTO a run for its money! I won the Laguna Seca race, but it was by less than 2 seconds, all due to this car's enormously bad handling.

So yes, handling is atrocious, but there is some good stuff to note, stuff that didn't make it into GT4.

PD got rid of the GT4 car's habit of front-end snap back for GT5, which makes all the difference. What is front-end snap back? This means that as the car gets sideways into the turn, and the driver tries to get a drift going by turning the front wheels "into the slide" (countersteering) the front-end would simply GRAB in the countersteer direction, and the entire car would now be prone to a quick and embarassing spin. GT5? All this is gone.
"Oh how do I love thee? Let me count the ways!" Shakespeare once wrote. Wait, that wasn't Shakespeare, that was some lady. Oh well, so much for internet research, lol. Anyways, driving the GTO in GT5, I certainly did find myself falling in love with this car, even with its original drab sandy paint job, in many many ways. I tried to count the ways, but lost count after the 134th corner I drifted the GTO through.
...Now, we can get into many, many turns, getting sideways, and safely we can BURY THE FUEL PEDEAL. I mean pedal. And the car's rear gets into a fantastic burning drift if we choose to do so! Yes, there are still plenty of moments when I've blown it. Yes, my sandy-colored GTO has mowed plenty of grass and travelled thru sand as I've taken turns too eagerly. But those moments when it's travelling sideways, smoke POURING behind it, the aging speakers in my television making noises as if they're about to blow! Those moments of pure joy make up for all the bad stuff.
PROS------------------------------

1). Nice to have America's first muscle car (arguably) to play with.

2). A true classic, with its sleek, long body that manages not to look as boxy as it is. Touches of chrome accent the package here and there in an understated way, rather than some of the uglyness we find from some later muscle cars.

3). The engine that was not supposed to grace any GM mid-size car. We thank Pontiac's execs of the time for not following the rules to make this engine (in this car) possible.

4). Its subtle V8 hum seems realistic. I've never been in a Tempest or a GTO, but I've been in some others from the '60s, and the GTO in our game does sound like a car from this era.

5). Shod some N tires, and we get genuine Redlines on our car in GT4! GT5's versions always have these tires shod.

6). Acceptable acceleration, once you figure it out.

7). One of the lighter muscle cars, thanks to yet another PD screw-up. With all 3 stages reduced, we can get it down to a very acceptable 2,660 pounds in GT4.

8). 3 NA tunes as well as a supercharger can be had.

9). Fun, fun times guaranteed for those who dig tire smoke and sliding around. A challenging car to drift, but it can be done. This is truer in GT5 than it is in GT4.


CONS----------------------------------------

1). The GTO is just as uncoordinated as we think it will be. And probably worse! It's like a derailed subway car in those turns.

2). Despite its engine, middle-lowish 3.23:1 final drive, and short-throw gearbox, getting an acceleration run (without hoards of wheelspin) is difficult, mostly due to those narrow tires.

3). A 4-speed that can't top 120 mph stock!??! Full-racing parts are needed for many races this one can compete in.

4). Speaking of races, be careful when entering the GTO in the 1000 Miles or Classic Car races. If a Cobra, Buick Special, or Jaguar E-type shows up, you're not going to have an easy time.

5). Gas mileage? We don't need no steekin' gas mileage!

6). Pricey. A real-life '64 GTO in top condition will easily cost more nowadays, of course.

7). Braking action that never seems enough.

8). Understeer that always seems too much.

9). Oversteer galore....but unfortunately it's the wrong kind of oversteer (unless you're just messing around), forcing us to be just as careful exiting corners as we are entering them during races. In GT4, front-end snapback is a particular worry for those trying to get a clean drift in this clumsy automobile.


Published: December 8, 2008
Edited for GT5 content: March 8th, 2011 and November 21, 2011